Nights for Tuesday 9 August 2011
7:10 Our Own Odysseys: India With Children
Jessica Venning-Bryan recently travelled around India with her family, which included her two young daughters aged three years and eighteen months.
See some pics of the family's odyssey.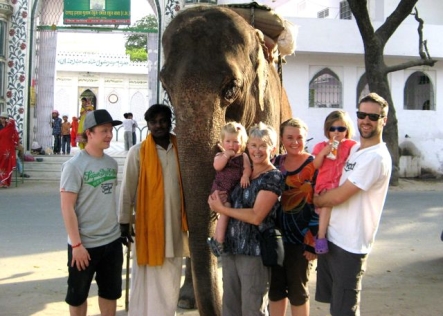 The whole family in Udaipur. Jessica's mother and brother went too.
7:30 The Sampler
A weekly review and analysis of new CD releases.
8:15 Windows on the World
International public radio documentaries - visit the Windows on the World web page to find links to these documentaries.
8:40 The World At Night - Gaza, Palestine
Director of English News Department, Palestine Broadcasting Corporation Lana Shaheen speaks from Gaza, the largest Palestinian city in the Gaza Strip of the Palestinian Territories.
9:00 News and Weather
9:06 The Tuesday Feature: The Promised Land
Pioneering researcher and "queen of the forest canopy" Dr. Nalini Nadkarni shows Majora Carter the wonders of the Olympic rain forest — from the treetops! The two also visit a correctional facility where Nalini's innovative Moss Project employs a team of prisoners turned botanists. (APM)
10:00 News and Weather
10:17 Late Edition
A review of the leading news from Morning Report, Nine to Noon, Afternoons and Checkpoint. Also hear the latest news from around the Pacific on Radio New Zealand International's Dateline Pacific.
11:06 World Routes (BBC)