Nights for Monday 25 July 2011
7:15 Following on: Midwinter in Christchurch
The Alps and ranges around New Zealand are now laden with snow yet while most of us are hunkering down and keeping warm, some in Canterbury are still having to get on within a broken city following this year's earlier devastating earthquakes.
http://canterburyearthquake.org.nz/
8:15 Windows on the World
International public radio documentaries - visit the Windows on the World web page to find links to these documentaries.
8:40 Thinkers: Philosophy
AUT Philosopher in Residence Ann Kerwin muses on how, what, and why we think what we do; on kindness.
9 pm News and weather
9:06 Insight
9:40 Sport: Badminton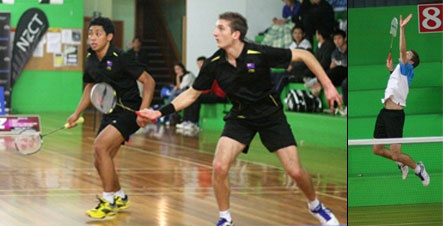 Oliver Leydon-Davis (right)
Currently one of New Zealand's top badminton players, Waikato University student and Sir Edmund Hillary Scholar Oliver Leydon-Davis is set on securing a medal at the Olympics, Commonwealth Games and World Championships.
10 pm Late Edition
A review of the news from Morning Report, Nine to Noon, Afternoons and Checkpoint. Also hear the latest news from around the Pacific on Radio New Zealand International's Dateline Pacific.
11 pm News and weather
11:06 Beale Street Caravan
The best in blues from the Blues Foundation in Memphis.