Nights for Tuesday 5 July 2011
7:12 PM.Ross Doyle with an Amazonian adventure and encountering the legacy of enviromental campaigner Chico Mendes. Audio

8:42 PM.The Aral Sea in Central Asia is now in its death throes. Examining the impact is our correspondent Tara Fitzgerald. Audio
7:10 Our Own Odysseys: Chico Mendes
Ross Doyle with an Amazonian adventure and encountering the legacy of environmental campaigner, Chico Mendes, plus, the taste of armadillos.
See photographs from Ross' odyssey.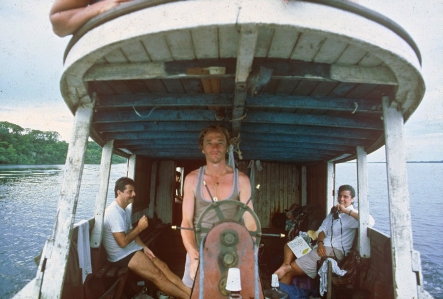 Chico Mendes steering a river boat up the Rio Negro.
9:30 The Sampler
A weekly review and analysis of new CD releases.
8:15 Windows on the World
International public radio documentaries - visit the Windows on the World web page to find links to these documentaries.
8:40 The World At Night: Aral Sea 
Once the world's fourth largest lake, the Aral Sea in Central Asia is now in it's death throes - examining the human and environmental toll with our correspondent Tara Fitzgerald.
9:00 News and Weather
9:06 The Tuesday Feature: 2011 Auckland Writers & Readers Festival
Radio New Zealand has selected some of the most thought-provoking and entertaining sessions from one of New Zealand's top celebrations of literature, the Auckland Writers and Readers Festival, for a five-part series of programmes from this week in our Sunday Feature slot. The encounters range from food to science by way of contemporary history, with speakers from the UK, India, USA, and the former Yugoslavia.
10:00 News and Weather
10:17 Late Edition
A review of the leading news from Morning Report, Nine to Noon, Afternoons and Checkpoint. Also hear the latest news from around the Pacific on Radio New Zealand International's Dateline Pacific.
11:06 Tapestry of the Times
Join Arron Henkin on an open-ear voyage back in time and around the globe as he takes listeners on a weekly tour through the wide ranging sound archives of Smithsonian Folkways Recordings (Smithsonian/WYPR).