Nights for Friday 27 May 2011
8:40 PM.Senior veterinarian Jenny Weston of the Massey Vet Teaching Hospital talks about what is handy to know for animal handling and vet emergencies if you have a lifestyle block. Audio

8:52 PM.And the winner is...... Audio
7:06 Sonic Tonic
8 pm News and Weather
8:06Sweet Folk to Bitchin' Prog Rock

Reporter Keith Newman tells the story of The Clevedonaires from Clevedon - a harmonious little family folk group from South Auckland which evolved into a progressive rock unit in Australia at the end of the 60s before heading to London where they were groomed for international stardom.
Find out more and listen again.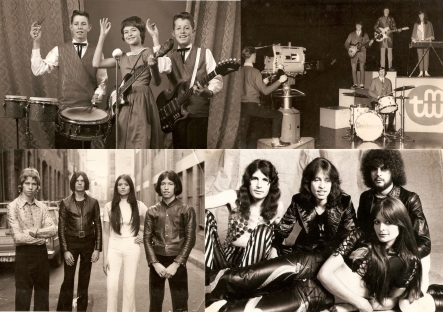 8:35 Pet Day: Lifestyle Blocks
Senior veterinarian Jenny Weston of the Massey Vet Teaching Hospital talks about what is handy to know for animal handling and vet emergencies if you have a lifestyle block.
Gallery: Jenny Weston at work. Warning - this gallery contains graphic images of a calf being delivered via Caesarean section that some viewers may not wish to see.

Jenny Weston examining a cow with some vet nursing students.
8:50 Conundrum
The answer and the winner's chosen song.
9 pm News and Weather
9:06 Country Life
Rural news and features.
10 pm News and Weather
10:17 Late Edition
A review of the leading news from Morning Report, Nine to Noon, Afternoons and Checkpoint. Also hear the latest news from around the Pacific on Radio New Zealand International's Dateline Pacific.
11 pm News and Weather
11:06 The Canterbury Scene: Britain's Lost Progressive Rock Music
In this six-part series, Thomas Goss reconsiders the many bands of the British progressive rock genre known as The Canterbury Scene. This week he looks at how Soft Machine became first psychedelic stars, then avant-garde pioneers. Thomas Goss analyses their evolution from their 1967 single Love Makes Sweet Music through to their 1970 jazz fusion masterpiece Third. (Pt 2 of 6, RNZ)