Nights for Tuesday 22 March 2011
7:10 Ride Out Of The Blue
Ride Out of the Blue organiser and cyclist Alison Blyth is cycling from Bluff to Cape Reinga in order to raise awareness for depression and the Mental Health Foundation for New Zealand.
7:30 The Sampler
New music reviews with Nick Bollinger.
8 pm News and Weather
8:15 Windows on the World
International public radio documentaries - visit the Windows on the World webpage to find links to these documentaries.
8:40 The World At Night: Mexico
Reporting from the eleventh most populous country and the most populous Hispanophone country in the world is our correspondent Susan Seijas... Marisol Valles, Carlos Slim and a film about the Mexican Justice System called Presumed Guilty.
8:59 Conundrum: Clue 3
9 pm News and Weather
9:06 The Tuesday Feature:The Wayfinders, by Wade Davis
'Why Ancient Wisdom Matters in the Modern World'.
10:17 Late Edition
A review of the leading news from Morning Report, Nine to Noon, Afternoons and Checkpoint. Also hear the latest news from around the Pacific on Radio New Zealand International's Dateline Pacific.
11:06 World of Music with Mark Coles (BBC)
11:40 Our Own Odysseys: To Kilimanjaro
Nigel Roberts has long been a rambunctious lad, why at the age of fifteen he hitch-hiked nearly six thousand miles from Johannesburg to Mt Kilimanjaro and back...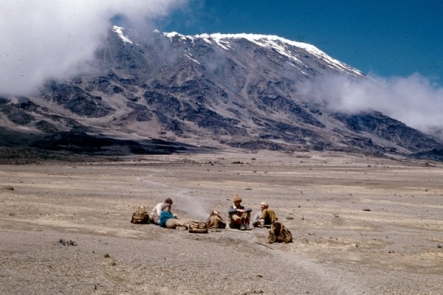 Nigel Roberts on Kilimanjaro.