Nights for Tuesday 26 January 2010
Tuesday 26 January 2010
7 pm News & Weather
7:15 Kiwi Australians
Lyn Waaka, Tim Rattray and Murray Mcglaughan
It's Australia Day 2010! Shrimps on the barbie, a New Zealand perspective on living across the ditch...
7:30 The Sampler
New music reviews with Nick Bollinger.
8 pm News & Weather
8:15 Windows on the World:
International public radio documentaries.
8:45 Sport - United Kingdom, Europe & Africa
Richard Fleming, sports correspondent, BBC
Analysis of the state of play from recent recreational activities... the African Cup of Nations.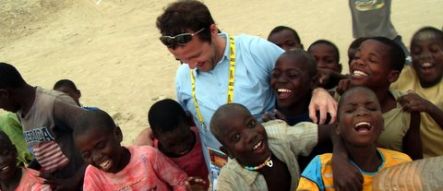 Our correspondent Richard Fleming with some of the younger fans at the African Soccer Cup in Angola.
The Mascot for the Tournament is Palanquinha, which was inspired by the Giant Sable Antelope a national symbol of Angola.
8:59 Conundrum: Clue 3
9 pm News & Weather
9:06 The Tuesday Feature: Smart Talk at the Auckland Museum
Isolation is the theme for scientists Professor George Gibbs and Hamish Campbell in the final of a series of conversations exploring migration from a variety of perspectives - economic, environmental, linguistic, historical, social, and geological. Chaired by Finlay Macdonald (F, RNZ)
10 pm News & Weather
10:17 Late Edition
A review of the leading news from Morning Report, Nine to Noon, Afternoons and Checkpoint. Also hear the latest news from around the Pacific on Radio New Zealand International's Dateline Pacific.
11:06 Charlie Gilett's World of Music
Britain's guru of world music radio presents a personal selection (BBC)