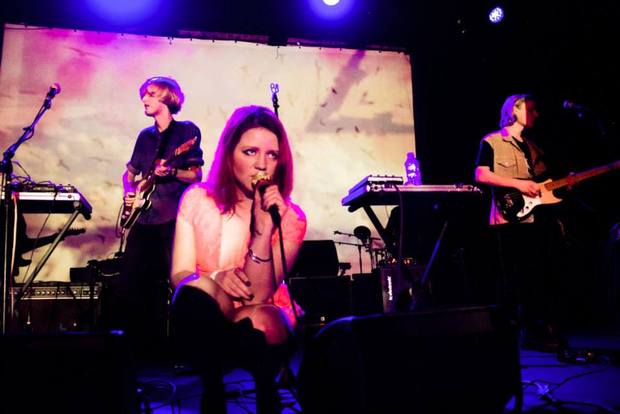 Yumi Zouma / Photo by Jonathan Graves
Yumi Zouma is a band that never intended to play live. It's three core members, Kim Pflaum, Charlie Ryder and Josh Burgess live in Christchurch, Paris and New York respectively, and worked together making an EP by sharing files over the internet.
But with the release of their dream disco EP on American label Cascine, and the swell of blog attention which followed, the band found itself in so much demand they needed to find a way to tour. So, adding their Christchurch friend Sam Perry on guitar, the band started on a world tour that took in Australia, The USA, Europe and eventually New Zealand.
The 'Yumis' avoid personalities in their promotion - pictures of the band members don't feature on their album cover or any of their posters. This gives them some flexibility with their worldwide spread. Josh Burgess missed some parts of the tour, as he had to go back to his job in New York, managing the USA branch of Flying Nun records from the offices of American label Captured Tracks.
Charlie Ryder and Josh Burgess were members of the much rowdier indie rock band Bang Bang Eche, a band that had enough success to take it's members around the world at a very young age (Burgess and Ryder were both teenagers at the time). But the crowds weren't always great, and Burgess ended up quitting the band in a hotel in London in 2009. It's taken a lot of demand for shows to lure him back on the road - but Yumi Zouma seem to be holding it together this time.
Burgess documented the European leg of their first world tour.
Playlist
Artist: Yumi Zouma
Song: A Long Walk Home For Parted Lovers / Salka Gets Her Hopes Up / The Brae / Riquelme / Alena
Composer: Josh Burgess, Kim Pflaum, Charlie Ryder
Album: Yumi Zouma, except Alena (single)
Label: Cascine
Artist: Perfume Genius
Song: Fool
Composer: Mike Hadreas
Album: Too Bright
Label: Matador