Music 101 for Saturday 15 March 2014
2-3pm

South By Southwest
Mailee Matthews throws herself into the biggest music industry conference in the world, SXSW in Austin Texas.
And there is a blog about SXSW on our sister site The Wireless.
@Peace
@Peace present a director's cut of their album, @Peace and the Plutonian Noise Symphony, 11 space-is-the-place tracks that wrestle with heady subjects like time dilation, aliens, death, and determinism.
The Sampler: Pokey LaFarge
Nick Bollinger listens to the self-titled album from American roots musician Pokey LaFarge, in New Zealand playing WOMAD and a few post-festival gigs.
Introducing: The Doubtful Sounds
3-4pm
Quantic
UK producer Quantic on living and breathing music in Cali, Colombia - the world's Salsa capital.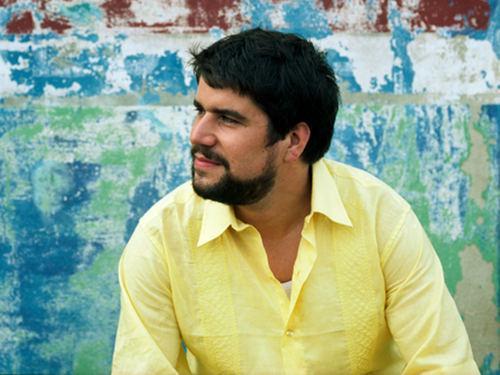 Will Holland, aka Quantic. Photo courtesy of Tru Thoughts.
Frente Cumbiero
Frente Cumbiero, a new generation of Colombian music makers, give Emma Smith a lesson in the rhythms of the Pacific and Carribean coasts of Colombia.
Pasifika 2014
We explore musics of the Pacific at Auckland's Pasifika Festival last weekend, and find a contemporary take on traditional Hawaiian music, watch a Tokelauan traditional dance workshop, and enjoy a performance from Tuvalu.
4-5pm
WOMAD 2014
WOMAD - World of Music, Arts and Dance - is being held for the tenth time at the beautiful Bowl of Brooklands in New Plymouth. WOMAD 2014 features performances from international artists including Afrobeat singer-saxophonist Femi Kuti, Norwegian indie artist Ane Brun, American hip-hop collective Arrested Development, and Japanese funk band Osaka Monaurail, alongside locals Kimbra, Tim Finn and Delaney Davidson.
Kirsten Johnstone and Trevor Reekie take in the sights and sounds, meet some of the players, and bring you performances fresh from the main stage.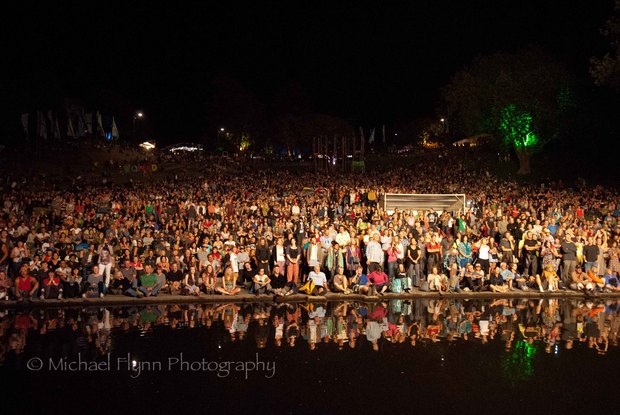 Womad Crowd at night. 
Music played in this show
2-3pm
Artist: Conrad Weddie
Song: Bamboo
Composer: Weddie
Album: Space World
Label:
SXSW
Artist: Truth
Song: Chronicles
Composer: A.Fernandez/T.Roake
Album: Truth Chronicles Vol #21
Label: Private
Artist: No
Song: Leave the Door Wide Open
Composer: No
Album: El Prado
Label: Arts & Crafts
Artist: Connan Mockasin
Song: I'm the Man, That Will Find You
Composer: C. Hosford
Album: Caramel
Label: Phantasy Sound
Artist: Slakah The Beatchild
Song: Byram's Groove (Cut A Rug)
Composer: Joseph
Album: Soul Movement vol 2
Label: BBE
@Peace
Artist: @Peace
Song: Hug Your Mum/Stranger/Playdough's Cave/Lite Year/Dust/Matter
Composer: T.Scott/L.Tuiasau/C.James/H.Dick/B.Haru
Album: @Peace and the Plutonian Noise Symphony
Label: Young, Gifted and Broke
The Sampler: Pokey LaFarge
Artist: Pokey LaFarge
Song: The Devil Ain't Lazy
Song: One Town At A Time
Composer: Secor/LaFage/Koenig
Composer: Rose
Songs: Central Time, Bowlegged Woman, Home Away From Home
Album: LaFarge
Label: Third Man
Artist: Johnnies
Song: Govt Don't Care
Composer: Johnnies
Album: Accident Compilation
Label: Failsafe
Introducing: The Doubtful Sounds
Artist: Doubtful Sounds
Song: Number 1 Line
Composer: Doubtful Sounds
Album: The Pop Album
Label: Self Release
3-4pm
Quantic
Frente Cumbiero
Artist: Frente Cumbiero and Mad Professor
Song:Chuchu Steady
Composer: Frente Cumbiero/ Mad Professor
Album: Frente Cumbiero meets Mad Professor
Label: Vampisoul
Artist: Frente Cumbiero
Song:
Composer: Frente Cumbiero
Album: Unreleased
Label: Radio NZ Recording
Artist: Grupo Sucavon
Song: Homenaje a Justino
Composer: Gruopo Sucabon
Album: Pacifico Colombiano
Label: Otrabanda
Pasifika
Artist: Keola Beamer
Song: Kalena Kai
Composer: Keola Beamer
Album:
Label: Radio New Zealand Recording
Artist: Keola Beamer
Song: Uhe Moani, Feke
Composer: Traditional
Album:
Label: Radio New Zealand Recording
Artist: Vaitupu Cultural Group
Song: Vaitupu Dance
Composer: Traditional
Album:
Label: Radio New Zealand Recording
Artist: Tokelau Dance Workshop
Song: Meleheke
Composer: Traditional
Album:
Label: Radio New Zealand recording
Artist: The All Seeing Hand
Song: Empty Road
Composer: The All Seeing Hand
Album: Mechatronics
Label: Muzai
4-5pm
Artist: Mokoomba
Song:
Composer: Mokoomba
Album: Unreleased Live Recording
Label: Radio NZ Recording