Music 101 for Saturday 21 December 2013

Leonard Cohen live in Wellington, 17 December 2013. Photo: Diego Opatowski (c) RNZ.
2-3pm
Webb Sisters session
Two of Leonard Cohen's back-up singers are Charley and Hattie Webb, sisters from Kent, who also play as a duo, with folk harp, guitar and mandolin. They join us to play songs and talk about life with Leonard.
Hattie Webb, Music 101 producer Kirsten Johnstone, and Charley Webb.
The Sampler: Favourite Local Releases 2013
Nick Bollinger wraps up a few of his favourite local albums of 2013.
Christmas busking
We take to the streets to check out some of the musicians making the most of consumer chaos and generosity at Christmas time.

A group from The Rock Academy holiday music programme, busking in Cuba Mall, Wellington.
3-4pm
The Verlaines
Nick Bollinger talks with Verlaines frontman Graeme Downes about the re-release of two early albums Juvenilia, and Hallelujah All The Way Home.
The Attic Dunedin
We head to new Dunedin creative hub The Attic, to hear some home made pedals, and meet the resident pigeons.
4-5pm
The Secret Life of the Orchestra: Strings
In this programme, Karl Steven concludes his four-part investigation of the parts of the orchestra with the enormous string family, unlocking the mystery of the heart of the orchestra and learning how violinists came to be associated with the devil.
Sal Valentine & The Babyshakes
Local old-school swingers Sal Valentine & The Babyshakes have just released their self-titled debut. Nick Atkinson heads along to a rehearsal.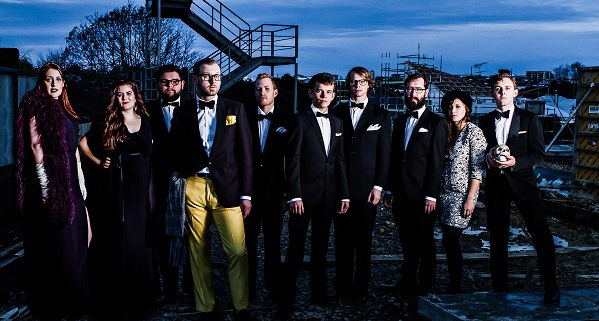 Sal Valentine & The Babyshakes
Music played in this show
2-3pm
Artist: Wagon Christ
Song: I'm Tired
Composer: Wagon Christ
Album: Toomorrow
Label: Ninja Tune
Artist: Leonard Cohen
Song: Everybody Knows
Composer: Cohen, Robinson
Album: Live in London 2008
Label: Columbia
The Webb Sisters in Session
Artist: The Webb Sisters
Song: You're My Missing Person
Composer: H Webb, C Webb
Album: RNZ recording
Label: RNZ
Artist: The Webb Sisters
Song: If It Be Your Will
Composer: Cohen
Album: RNZ recording
Label: RNZ
The Sampler: Best Local Releases of 2013
Artist: Sheep Dog & Wolf
Songs: Breathe, Guaranteed Defective, Nothing Probably
Composer: McBride
Album: Egospect
Label: Lil Chief
Artist: Fat Freddy's Drop
Songs: Blackbird, Clean The House, Soldier, Silver & Gold
Composer: Fat Freddy's Drop
Album: Blackbird
Label: The Drop
Artist: The Phoenix Foundation
Songs: The Captain, Walls, Evolution Did
Composer: The Phoenix Foundation
Album: Fandango
Label: Universal
Artist: Unknown Mortal Orchestra
Songs: From The Sun, Swim and Sleep, One At A Time, The Opposite Of Afternoon
Composer: Nielson
Album: Unknown Mortal Orchestra II
Label: Jagjagwar
Artist: Lorde
Songs: Royals, Glory and Gore, White Teeth Teens, Tennis Court, Team
Composer: Yellioch-O'Connor/Little
Album: Pure Heroine
Label: Universal
Buskers of Christmas
Artist: Ernesto Anemone
Song: Drifting
Composer: Ernesto Anemone
Album: Drifting
Label: self release
3-4pm
Artist: The Bats
Song: By Night
Composer: The Bats
Album: By Night
Label: Flying Nun
The Sampler: Verlaines Rereleases and Graeme Downes
Artist: The Verlaines
Songs: Death and the Maiden, Joed Out, Pyromaniac
Composer: Verlaines
Album: Juvenilia
Label: Flying Nun
 
Artist: The Verlaines
Songs: Lying In State, Phil Too, All Laid On, For The Love Of Ash Grey
Composer: Verlaines
Album: Hallelujah All The Way Home
Label: Flying Nun
Artist: Trick Mammoth
Song: Floristry
Composer: Trick Mammoth
Album: Floristry
Label: Fishrider
The Attic
Artist: Proton Beast
Song: Tetris
Composer: Proton Beast
Album: Tetris
Label: Muzai
Introducing: Kane Strang
Artist: Kane Strang
Song: Winded
Composer: Kane Strang
Album: A Pebble and a Paper Crane
Label: self release
Artist: Emily Edrosa
Song: Christmas Boo
Composer: Littler
Album: Body/Christ single
Label: private
Artist: Warpaint
Song: Love Is To Die
Composer: Warpaint
Album: Warpaint
Label: Manimal
Gig Guide
Artist: Wire
Song: 12XU
Composer: Gilbert, Gotobed, Lewis
Album: Pink Flag
Label: EMI
Artist: French For Rabbits
Song: The Cats
Composer: Brooke Singer
Album: Claimed by the Sea EP
Label: Home Alone Music
Artist: Mt Eden
Song: Gambler
Composer: Rayner,Cooper
Album: Meds 1
Label: Private
4-5pm
Artist: Macka B
Song: Never Played a 45
Composer: Macka B
Album: Change the World
Label: Chinelo
The Secret Life of the Orchesta: Strings
Artist: Leroy Anderson
Song: Plink, Plank, Plunk
Composer: L. Anderson
Album: The Typewriter
Label: Dance Street

Artist: Reginald de Koven
Song: Serenade-A Troubadour Sang To His Love
Composer: H. L. R. de Koven
Album: Robin Hood (Original Cast Recording)
Label: AEI Records

Artist: CRA
Song: Mitemite Kocchicchi
Composer: Tanaka Hirokazu
Album: Chiptune Vol. 4 Japanese Idol Girls EP
Label: Crimson Technology Inc.

Artist: Mariah Carey (feat. Boyz II Men)
Song: One Sweet Day
Composer: M.McCary, Mariah Carey, N.Morris, S.Stockman, W.Afanasieff, W.Morris & Walter Afanasieff
Album: The Essential Mariah Carey
Label: Sony Music Entertainment

Artist: Cyndi Lauper
Song: Girls Just Wanna Have Fun
Composer: R. Hazard
Album: 100 Hits Of The '80s
Label: Sony Music Entertainment

Artist: Led Zeppelin
Song: Whole Lotta Love
Composer: R. Plant, J. Bonham, J. P. Jones, J. Page, W. Dixon
Album: Led Zeppelin II
Label: Atlantic

Artist: Donald O'Connor and Gene Kelly
Song: Fit As A Fiddle
Composer: A. Freed, A. Hoffman, A. Goodheart
Album: Singing In The Rain (Music Form the Motion Picture)
Label: Burning Fire

Artist: Ada Jones and Billy Murray
Song: Special G – I'm Looking For A Sweetheart
Composer: M. Klein
Album: Archeophone Archives: Edison Blue Amberol Records, Domestic Popular Series, Vol. 6 (1651–1720, Specials A-K & School Series)
Label: Archeophone Records

Artist: Player Piano
Song: Down By The Old Mill Stream
Composer: T. Taylor
Album: Player Piano – All Time Favorites
Label: Regina Music Inc.

Artist: Sir Georg Solti, Wiener Philharmoniker & Wiener Staatsopernchor
Song: Messa da Requiem: II. Dies Irae: 1. Dies Irae
Composer: G. Verdi
Album: Verdi: Requiem
Label: Decca Music Group Limited

Artist: Basil Rathbone & Warner Brothers Studio Orchestra
Song: The Adventures of Robin Hood
Composer: E. W. Korngold
Album: Korngold: The Adventures of Robin Hood
Label: Delos
Artist: Pee Wee King
Song: Bull Fiddle Boogie
Composer: C. R. Grean & C. Coben
Album: Gangster Squad (Music From and Inspired By the Motion Picture)
Label: Water Tower Music
Artist: Nobuko Imai
Song: Three Suites for Solo Viola, Op. 131d - Suite in G Minor: I. Molto Sostenuto
Composer: M. Reger
Album: Reger – Music For Viola
Label: Bis
Artist: Alexander Ivashkin
Song: Rimmer – A Dialogue of Opposites
Composer: J. Rimmer
Album: Under The Southern Cross: Music For Solo Cello
Label: Ode Records
Artist: Susanna Yoko Henkel
Song: Fantasia On A Theme By Thomas Tallis
Composer: R. Vaughn Williams
Album: Living Concert Series: Tchaikovsky and Vaughn Williams
Label: Acousence Classics
Artist: Nigel Kennedy
Song: Chardis
Composer: trad. Arr. J. Coleman
Album: N/A
Label: unreleased
Artist: London Philharmonic Orchestra (feat. Aboud Abdel Al)
Song: Kashmir
Composer: R. Plant, J. Bonham, J. P. Jones, J. Page, Arr. J. Coleman
Album: Kashmir – Symphonic Led Zeppelin
Label: Phillips
Artist: 101 Strings Orchestra
Song: Amore Suscami
Composer: G. Mescoli, V. Pallavicini
Album: The Love Songs Of Italy
Label: Madacy Special Products
Artist: Eric Hammerstain & London Promenade Orchestra
Song: Funeral March of a Marionette (From "Alfred Hitchcock Presents")
Composer: C. Gounod
Album: Romancing the Screen, Vol. 5: Action, Suspense and Horror Classics
Label: The Reader's Digest Association Incorporated
Artist: Bernard Herrmann: London Philharmonic Orchestra
Song: Psycho (A Narrative For Orchestra)
Composer: B. Herrmann
Album: Music From the Great Hitchcock Thrillers
Label: Decca
Artist: Evans Carroll
Song: The Monster
Composer: E. Carroll
Album: Horror Hop
Label: Buffalo Bop
Artist: Anne-Sophie Mutter & Trondheim Soloists
Song: Sonata for Violin and Continuo in G Minor, B. g5 - "Il trillo del diavolo": 4. Allegro assai
Composer: G. Tartini
Album: Vivaldi: Le quattro stagioni - Tartini: Sonata in G minor "Trillo del Diavolo"
Label: Deutsche Grammophon GmbH, Hamburg
Artist: Rugiero Ricci
Song: 24 Caprices for Solo violin, Op. 1: V. Agitato: V. Agitato
Composer: N. Paganini
Album: Paganini - Ricci Plays Complete Caprices for Solo Violin Including "Caprice D'adieu"
Label: Musical Concepts
Artist: The Charlie Daniels Band
Song: The Devil Went Down To Georgia
Composer: C. Daniels. T. Crain, T. DiGregorio, F. Edwards, C. Hayward, J. W. Marshall
Album: The Essential Charlie Daniels Band
Label: Sony Music Entertainment
Artist: Kronos Quartet
Song: Mini Skirt
Composer: L. Warner
Album: Kronos Quartet: Nuevo
Label: Nonesuch Records
Artist: John Barry Orchestra
Song: Opening Titles (Medley): James Bond Is Back/From Russia With Love/James Bond Theme
Composer: J. Barry
Album: Best of Bond...James Bond 50 Years - 50 Tracks
Label: Capitol Records
Artist: Mendelssohn: Symphony #4 In A, Op. 90, "Italian" - 1. Allegro Vivace
Song: Claudio Abbado: London Symphony Orchestra
Composer: F. Mendelssohn
Album: Mendelssohn: Symphonies #3 & 4
Label: Deutsche Grammophon
Artist: David Nalden
Song: Violin Concerto in G Minor 1st Movement
Composer: M. Bruch
Album: N/A
Label: N/A
Artist: David Nalden
Song: Viola Improvisation
Composer: D. Nalden
Album: N/A
Label: N/A
Artist: Kodály Quartet
Song: String Quartet in B Flat Major Op. 1, No.1: V. Finale - Presto
Composer: F. J. Haydn
Album: Haydn: String Quartets, Op. 1, Nos. 1 - 4
Label: Naxos
Artist: Balanescu Quartet
Song: Autobahn
Composer: R. Hütter, F. Schneider, E. Schult
Album: Possessed
Label: Mute Records
Artist: Kronos Quartet
Song: Misirlou Twist
Composer: N. Roubanis
Album: Kronos Quartet: Caravan
Label: Nonesuch Records
Artist: Andrew Bird
Song: Pulaski At Night
Composer: Bird
Album: I Want To See Pulaski At Night
Label: Grimsey
Artist: Woody Herman
Song: Apple Honey
Composer: Herman
Album: Woody Herman: Best Of The Big Bands
Label: CBS
Sal Valentine and The Babyshakes
Artist: Sal Valentine and the Babyshakes
Song: I Ain't Seen Nothing Like You, Warning Baby, You Are The Cutest Thing, Cass Monaé
Composer: Ivan Luketina-Johnston
Album: Sal Valentine and the Babyshakes
Label: Private
Artist: Elvis
Song: (There's) No Room To Rhumba In A Sports Car
Composer: F Wise, D Manning
Album: Fun In Acapulco
Label: RCA
Artist: Oddisee and Estère
Song: Flash Light
Composer: A Khalifa, E Dalton
Album: unreleased
Label: n/a
Artist: Lord Echo
Song: Ghost Hands
Composer: August
Album: Curiosities
Label: Economy