Music 101 for Saturday 23 November 2013
2-3pm
Downloaded
Napster is arguably the company that started the digital music revolution. A new documentary, Downloaded, charts the rise and fall of this peer-to-peer music service, from its first strokes of code in 1998, to the much publicised lawsuit brought against it by Metallica, Dr Dre and the RIAA. We speak to the director of the film Alex Winter.
The Sampler: The Beatles At The BBC
A new haul of live sessions and interviews from The Fab Four has been excavated from the vaults of the BBC - Nick Bollinger takes a listen.
Surf Friends
The happiest chaps in NZ music explain their second album Endorphins, and how they convinced one of their heroes, The Clean's David Kilgour, to play guitar on it.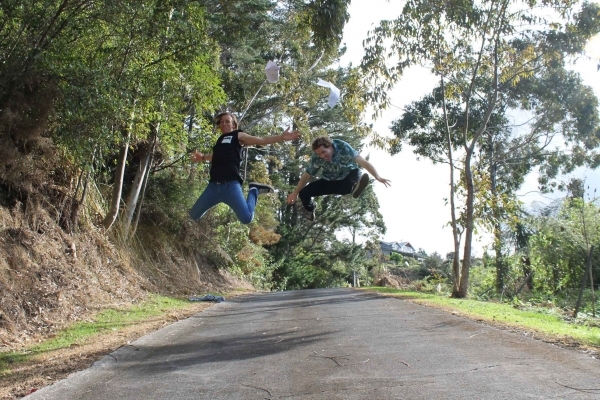 Surf Friends
3-4pm
Julien Dyne
Julien Dyne has just released his fourth solo LP, December - fellow drummer and beatmaker Riki Gooch asks him about his disciplined approach to his multi-disciplinary creativity.
Roots Foundation
Dub and reggae soundsystem Roots Foundation are celebrating 21 years of spinning records together - we speak to Mu, Lemon, Koa and Goosebump about their impact on the Wellington scene.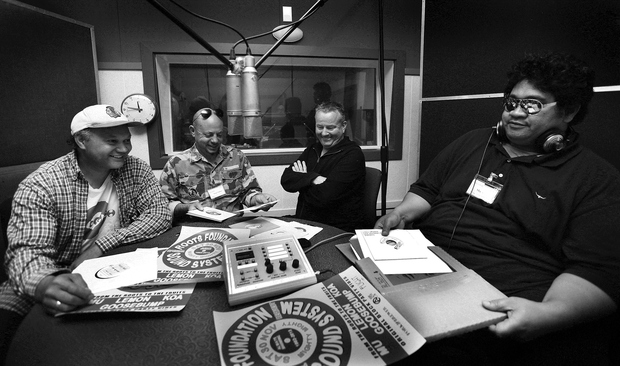 Roots Foundation: L-R Koa, Goosebump, DJ Lemon and Mu. 
Gig Guide
4-5pm
NZ Music Awards
We go behind the scenes at the NZ Music Awards 2013.
Here is a photo gallery from the NZ Music Awards 2013.
Here is our Shona Laing online audio collection.

Aaradhna, a multiple winner at the NZ Music Awards 2013. Photo by Jason Hailes.
Henry Wagons in session
The leader of Australian country band Wagons sings songs live in session, and talks about working with The Bad Seeds' Mick Harvey.
Music played in this show
2-3pm
Artist: Dr Dre
Songs: Nothin' But a 'G' Thang
Composer: A.Young/C.Broadus
Album: The Chronic
Label: Death Row
Artist: Tom Brosseau
Song: Cradle Your Device
Composer: Tom Brosseau
Album: Grass Punks
Label: Crossbill
Access All Areas: Downloaded
Artist: Dr Dre
Song: Keep Their Heads Ringin' (Instrumental)
Composer: Dr Dre
Album: Keep Their Heads Ringin' - Single
Label: Priority Records

Artist: Jamie xx
Song: Beat For
Composer: Jamie xx
Album: Far Nearer / Beat For - EP
Label: XL

Artist: Steinski
Song: Swingset
Composer: Steinski
Album: What Does It All Mean? - 1983-2006 Retrospective
Label: Illegal Art

Artist: Diplo
Song: Way More Brazil
Composer: Diplo
Album: Decent Work For Decent Pay
Label: Mad decent

Artist: The Beatles
Song: Why Don't We Do It In The Road?
Composer: Lennon - McCartney
Album: The Beatles (White Album) [Disc 1]
Label: Apple - EMI

Artist: The Clash
Song: The Beatles (White Album) [Disc 1]
Composer: Strummer - Jones
Album: Sandinista! (Disc 1 of 2)
Label: Epic - Sony

Artist: Trip to the Moon
Song: System Shaker
Composer: Ludvigson - Reekie
Album: The Invisible Line [album]
Label: Jazzscore - Ode

Artist: Radiohead
Song: Good Evening Mrs Magpie (Modeselektor RMX)
Composer: Yorke - Radiohead
Album: TKOL RMX 1234567
Label: XL

Artist: Metallica
Song: The End of the Line
Composer: Metallica
Album: Death Magnetic
Label: Universal Music

Artist: Instituto
Song: ossario
Composer: Instituto
Album: Instituto
Label: download

Artist: Eric B & Rakim
Song: Don't Sweat The Technique - Edit
Composer: Eric B & Rakim
Album: 12" single
Label:

Artist: Lee Scratch Perry
Song: Money Come And Money Go
Composer: Lee Scratch Perry
Album: Revelation
Label: MCA Records
Artist: Jay Z
Songs: December 4th
Composer: S.Carter/B.Burton
Album: The Grey Album
Label: Private
The Sampler: The Beatles at the BBC Volume 2
Artist: The Beatles
Songs: She Loves You, Please Please Me, I Feel Fine, I Want To Hold Your Hand
Composer: Lennon-McCartney
Album: On Air – Live At The BBC Volume 2
Label: Apple/Universal/BBC

Artist: The Beatles
Song: Twist and Shout
Composer: Medley-Russell
Album: On Air – Live At The BBC Volume 2
Label: Apple/Universal/BBC

Artist: The Beatles
Song: Sure To Fall
Composer: Perkins-Claunch-Cantrell
Album: On Air – Live At The BBC Volume 2
Label: Apple/Universal/BBC

Artist: The Beatles
Song: Beautiful Dreamer
Composer: Foster-Keller-Goffin
Album: On Air – Live At The BBC Volume 2
Label: Apple/Universal/BBC

Artist: The Beatles
Song: Money
Composer: Bradford-Gordy
Album: On Air – Live At The BBC Volume 2
Label: Apple/Universal/BBC

Artist: The Beatles
Song: Long Tall Sally
Composer: Penniman-Johnson-Blackwell
Album: On Air – Live At The BBC Volume 2
Label: Apple/Universal/BBC<

 
Artist: The Clean
Song: Anything Could Happen [Live]
Composer: Kilgour,Kilgour,Scott
Album: Vehicle (Reissue)
Label: Flying Nun
Interview: Surf Friends
Artist: Surf Friends
Songs: Summer, The Sea, Mexico, Moving On
Composer: Westmoreland/Coley
Album: Endorphins
Label: Flying Nun
Artist: Surf City
Song: Song From A Short Lived TV Series
Composer: Surf City
Album: We Knew It Was Not Going To Be Like This.
Label: Arch Hill/Flying Out
Artist: Oliver Wilde
Song: Something Old
Composer: Wilde
Album: A Brief Introduction to Unnatural Light Years.
Label: Create/Control
3-4pm
Artist: Prince
Song: Da Bourgeoise
Composer: Prince
Album: single
Label: Private
Interview: Julien Dyne
Artist: Julien Dyne
Songs: Cron/Wood and Brick/Tonight/Real Life/Limes/Fools/December
Composer: J.Dyne
Album: December
Label: BBE Records
Artist: Electric Wire Hustle
Songs: Numbers & Steel
Composer: Electric Wire Hustle
Album: Love Can Prevail/Blackwater
Label: Every Waking Hour
Artist: Sister Nancy
Song: Bam Bam
Composer: Sister Nancy
Album: 300% Dynamite
Label: Souljazz
 
Interview: Roots Foundation
Artist: Shark Wilson & The Basement Heaters
Song: Make it Reggae
Composer: Brown
Album: 7"
Label: Moodisc records International

Artist: Jackie Mittoo
Song: Totally Together
Composer: Mittoo
Album: The Keyboard King at Studio One
Label: Soul Jazz

Artist: Sound Dimension
Song: Real Rock
Composer: Dodd
Album: 7"
Label: Studio One

Artist: Dr Alimantado
Song: Best Dressed Chicken
Composer: Thompson
Album: Best Dressed Chicken
Label: Greensleeves

Artist: Rockers Hi-Fi
Song: Push Push
Composer: Rockers Hi-Fi
Album: Rockers to Rockers
Label: Different Drummer

Artist: Rockers Hi-Fi
Song: Push Push
Composer: Rockers Hi-Fi
Album: Rockers to Rockers
Label: Different Drummer

Artist: Blackstar feat Top Cat
Song: Champion DJ
Composer: n/a
Album: 12"
Label: Congo Natty

Artist: Clement Seymour Dodd
Song: Take a Ride (Truth and Rights)
Composer: Osbourne
Album: 7"
Label: Studio One

Artist: Winston Francis
Song: Let's go to Zion
Composer: Francis
Album: 7"
Label: Studio One
Artist: Outkast
Songs: SpottieOttieDopaliscious
Composer: OutKast
Album: Aquemini
Label: LaFace
Artist: Erykah Badu
Songs: Tyrone
Composer: E.Badu/N.Hurt
Album: Live
Label: Universal
Gig Guide
4-5pm
Feature: The NZ Music Awards 2013
Artist: Aaradhna
Song: Lorena Bobbitt, Wake Up
Composer: Aaradhna Patel, Peter Wadams, Evan Short
Album: Treble and Reverb
Label: Dawn Raid

Artist: Lawrence Arabia
Song: The Listening Times
Composer: James Milne
Album: the Sparrow
Label: Bella Union

Artist: Jamie McDell
Song: Living In Sunshine
Composer: Jamie McDell
Album: Six String and a Sail Boat
Label: EMI

Artist: Shona Laing
Song: 1905
Composer: Shona Laing
Album: 1905-1990 A Retrospective
Label: Columbia

Artist: Shona Laing
Song: Nuetral and Nuclear Free
Composer: Shona Laing
Album: South
Label: EPIC

Artist: Shona Laing
Song: White Volonial Middle-Class Anarchist
Composer: Shona Laing
Album: Roadworks
Label: Columbia

Artist: Shona Laing
Song: Erica's Song
Composer: Shona Laing
Album: New On Earth
Label: Columbia

Artist: Shona Laing
Song: Show Your Love
Composer: Shona Laing
Album: 1905-1990 A Retrospective
Label: Columbia

Artist: Shona Laing
Song: Taste Of Memory, Endless
Composer: Shapeshifter
Album: Delta
Label: Truetone/Universal

Artist: Shapeshifter
Song: Electric Dream
Composer: Shapeshifter
Album: Soulstice
Label: Truetone

Artist: Shapeshifter
Artist: Shapeshifter
Song: Diamond Trade, 141, Little Flame
Composer: Shapeshifter
Album: Delta
Label: Truetone/Universal
Artist: Anika Moa
Songs: Colours are Beautiful
Composer: A.Moa
Album: Songs for Bubbas
Label: Private
Album: Hula Hope
Song: Do You
Composer: E Chisolm
Album: Lamps
Label: Self-released
Artist: Elvis
Song: Talk About The Good Times
Composer: Jerry Hubbard
Album: Promised Land
Label: RCA
Session: Henry Wagons
Artist: Henry Wagons
Song: Drive All Night Till Dawn, I'm Never Gonna Leave
Composer: Henry Wagons
Album: n/a
Label: Radio New Zealand recording
Artist:Nick Cave
Song: Tupelo
Composer: Adamson, Cave, Harvey
Album: Firstborn Is Dead
Label: Mute
Artist: Team Ugly
Songs: Duck My Sick
Composer: Team Ugly
Album: Screaming In Tongues EP
Label: Private