Music 101 for Saturday 2 November 2013
2-3pm
Sam Hunt and Tourettes
Auckland punk-poet Tourettes gets a master class in performance poetry from fellow bard Sam Hunt.

With thanks to TheWireless.co.nz
Fangfest
We join the newest punk festival in the land, to speak to organisers, bands and punters at Auckland's Fangfest.
The Sampler: Robert Pollard
Prolific songwriter Robert Pollard, who also leads Guided By Voices, has released a couple of albums this year - Nick Bollinger samples Honey Locust Honkey Tonk.
3-4pm
Orchestra of Spheres
David Alphabethead Morrison talks with fellow sound explorers Orchestra of Spheres about the how their latest work, Vibration Animal Sex Brain Music came together.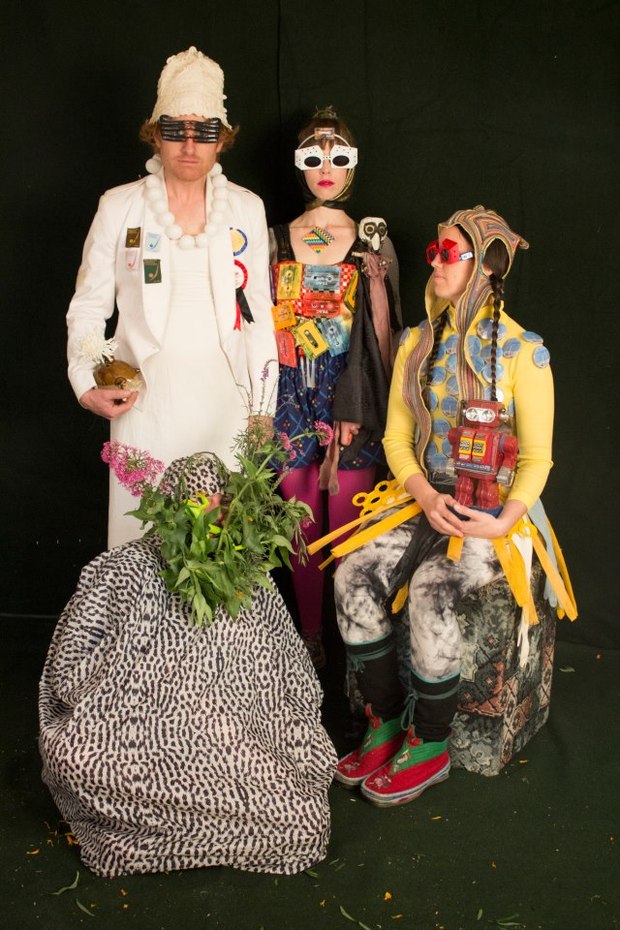 The Sampler: Tamikrest
We listen to the desert-blues of Malian band Tamikrest, which is at once ancient African and influenced by modern western rock.
Gig Guide
4-5pm
Lou Reed - What Goes On
Local musicians and music journalists tell of how Lou Reed's music, and his NZ tours of the 70s, shaped our musical psyche.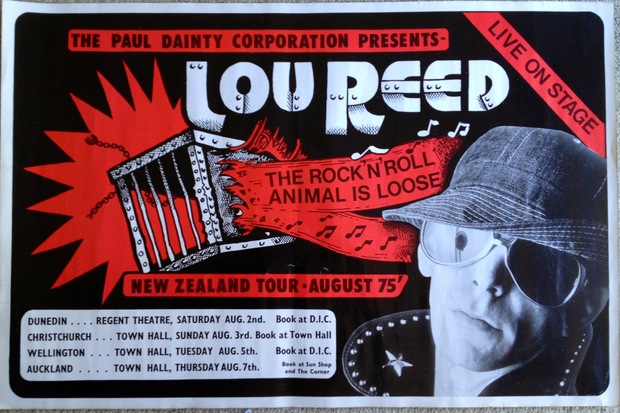 Great North - Super Boss Sunday
Jimmy Barnes is supporting Bruce Springsteen for his two stadium shows at Mt Smart in Penrose next March, but there's another early support slot that will eventually be filled by a local group. Auckland band Great North have started an online petition to help their campaign to play on the same stage as Springsteen and lead singer Haden Donnell put on a show at The Wine Cellar called Super Boss Sunday to raise awareness for the scheme. Six acts performed three-song sets that had to include at least one Springsteen cover. Music Mix producer Nick Atkinson headed along to find out more about Hayden Donnell's obsession with The Boss.
Music played in this show
2-3pm
Artist: Velvet Underground
Song: All Tomorrow's Parties (instrumental)
Composer: Reed, Cale
Album: The Velvet Underground & Nico 45th Anniversary (Deluxe Edition)
Label: Polydor
Sam Hunt and Tourettes
Artist: The Warratahs
Song: Bruno's Last Ride [Live]
Composer: Saunders
Album: One Of Two Things
Label: Jayrem
Artist: Bob Dylan
Song: It Takes a Lot to Laugh, It Takes a Train to Cry
Composer: Dylan
Album: Highway 61 Revisited
Label: Columbia
Artist: The Warratahs
Song: Fire Song, Cape Turnagain
Composer: Saunders/Hunt
Album: One Of Two Things
Label: Jayrem
Artist: David Kilgour
Songs: Talk Of The Weather, Chord
Composer: Kilgour,Hunt
Album: Falling Debris
Label: Arch Hill
Artist: David Kilgour
Songs: Reprise
Composer: Hunt
Album: Falling Debris
Label: Arch Hill
Artist: Members of the Vienna Octet
Songs: The Trout quintet
Composer: Schubert
Album: The Trout quintet
Label: Decca
Artist: Tourettes
Song: Tonight
Composer: Hoey/Barrat
Album: Tiger Belly
Label: Round Trip Mars
Fangfest
Artist: The Cavemen
Song: Swamp Thing
Composer: The Cavemen
Album: n/a
Label: n/a
Artist: Guided By Voices
Song: Everywhere with Helicopter
Composer: Pollard
Album: Universal Truths and Cycles
Label: Matador
The Sampler: Robert Pollard- Honey Locust Honkey Tonk
Artist: Robert Pollard
Songs: He Requested Things, Suit Minus The Middle, She Hides In Black, Find A Word, Who Buries The Undertaker, I Have To Drink, Her Eyes Play Tricks On The Camera
Composer: Pollard
Album: Honey Locust Honky Tonk
Label: Fire
Artist: The Move
Song: Night Of Fire
Composer: R Wood
Album: The Complete Singles Collection
Label: Crimson
3-4pm
Artist: Alphabethead
Song: Buzz
Composer: Morrison
Album: n/a
Label: n/a
Orchestra Of Spheres
Artist: Sani Danja
Song: Muna Cikin Sanyi
Composer: Sani Dania
Album: Harafin So
Label: Sahel Sounds
Artist: Owiny Sigoma Band
Song: Owiny Techno
Composer: Owiny Sigoma Band
Album: Power Punch
Label: Brownswood
The Sampler: Tamikrest- Chatma
Artist: Tamikrest
Songs: Imanin Bas Zihoun, Toumast Anlet, Timtar, Tisnat An Chatma, Achaka Achail Aynaian Dagchilan, Assikal
Composer: Ousmane Ag Mossa
Album: Chatma
Label: Glitterbeat/Stem
Artist: John McGrath
Song: Four Hills
Composer: McGrath
Album: Laterns
Label: n/a
Introducing: Earthworm
Artist: Earthworm
Song: Magpie
Composer: Bonner
Album: n/a
Label: Banishedbytheuniverse
Artist: James Blake
Song: Life Round Here
Composer: Blake
Album: Overgrown
Label: Atlas
Gig Guide
Artist: Dolly Parton
Song: 9 to 5
Composer: Parton
Album: Greatest Hits
Label: RCA
Artist: Makana
Song: Napo'o Ka La
Composer: Makana
Album: Ki Ho'alu
Label: Makana Music
Artist: King Crimson
Song: Indiscipline
Composer: Fripp, Belew
Album: Discipline
Label: Polydor
Artist: Rhian Sheehan
Song: Little Sines
Composer: Sheehan
Album: Stories From Elsewhere
Label: Loop
4-5pm
What Goes On: Lou Reed and NZ Music
Artist: Velvet Underground And Nico
Song: All Tomorrows Parties
Composer:  Reed
Album: The Velvet Underground and Nico
Label:  Polydor

Artist: Lou Reed
Song: Lady Day
Composer: Reed
Album: Berlin
Label: RCA

Artist: Lou Reed
Song: Vicious
Composer: Reed
Album: Transformer
Label: RCA

Artist:The Velvet Underground and Nico
Song: Run Run Run
Composer:  Reed
Album: The Velvet Underground and Nico
Label:  Polydor

Artist: Lou Reed
Song:  Sister Ray
Composer:  Reed
Album: White Light/ White Heat
Label: RCA

Artist: Lou Reed
Song:  Sweet Jane
Composer:  Reed
Album: Rock n Roll Animal
Label: RCA

Artist: Dragon
Song:  White Light White Heat
Composer:  Reed
Album: Dragon: The Essential
Label: Sony

Artist: Velvet Underground and Nico
Song:  Venus in Furs
Composer:  Reed
Album: The Velvet Underground and Nico
Label: Polydor

Artist: Lou Reed
Song:  I Heard Her Call My Name
Composer:  Reed
Album: White Light/ White Heat
Label: RCA

Artist: Lou Reed
Song:  Walk On The Wild Side
Composer:  Reed
Album: Transformer
Label: RCA

Artist: Lou Reed
Song:  Sweet Jane, White Light White Heat
Composer:  Reed
Album: Rock n Roll Animal
Label: RCA

Artist: Lou Reed
Song: Rock and Roll
Composer:  Reed
Album: Loaded
Label: RCA

Artist: Lou Reed
Song:  Satellite of Love
Composer:  Reed
Album: Live in Italy
Label: RCA

Artist: Lou Reed
Song:  How Do You Think It Feels
Composer: Reed
Album: Berlin
Label: RCA

Artist: Lou Reed
Song: Perfect Day
Composer:  Reed
Album: Transformer
Label: RCA
Artist: Lou Reed
Song:  Who Am I?
Composer:  Reed
Album: The Raven
Label: Sire
Artist: The Clean
Song: I Can't Stand It
Composer: Reed
Album: Mashed
Label: Flying Nun
Super Springsteen Sunday
Artist: Big Bend
Song: State Trooper
Composer: Bruce Springsteen
Album:
Label: Radio New Zealand recording
Artist: Will Wood
Song: Thunder Road
Composer: Bruce Springsteen
Album:
Label: Radio new Zealand recording
Artist: Cy Winstanley
Song: Nebraska
Composer: Bruce Springsteen
Album:
Label: Radio New Zealand recording
Artist: Great North
Song: If I Should Fall Behind
Composer: Bruce Springsteen
Album:
Label: Radio New Zealand recording
Artist: Watercolours
Song: Sliders
Composer: Metcalfe
Album: n/a
Label: n/a
Artist: Patrick Cowley
Song: Zygote
Composer: Cowley
Album: School Daze
Label: Dark Entities