Music 101 for Saturday 31 March 2012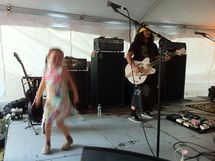 2-3pm
SXSW 2012
Sam Wicks reports back from South By Southwest (SXSW), a music industry conference/festival which sees around 2000 acts and tens of thousands of people descend on Austin, Texas. We follow NZ artists Electric Wire Hustle, Cairo Knife Fight and King Kapisi as they drag their gear from show to show, in the hope they'll be spotted by the right people.
The Sampler: Bruce Springsteen
The Boss' new album The Wrecking Ball sees him roaring with disappointment and rage about the various ways in which the American working man has been sold down the river by bankers and robber barons. Nick Bollinger takes a listen.
3-4pm
Elbow
We have a taste of this week's shows at The Powerstation - which Radio NZ recorded for later broadcast - and all five members of Elbow talk about their funk and prog-rock beginnings, and how they came to write the theme music for this year's Olympic Games.
Access All Area: Hoodoo Gurus
Australian psychedelic rockers The Hoodoo Gurus are back, celebrating the 30th anniversary of the debut single 'Leilani'.
The Hoodoo Gurus is one of Australia's most enduring rock bands with a back catalogue of instantly identifiable songs that provided a soundtrack to a generation of Aussie kids - and the band is still going strong. For Access All Areas this week Trevor Reekie catches up with lead vocalist Dave Faulkner.
Real Estate
Jangly New Jersey band Real Estate were in NZ recently, Dunedin being somewhat of a musical mecca for them. We meet the band to talk Flying Nun, amps, and beaches.
Introducing: Black City Lights
Gig Guide
4-5pm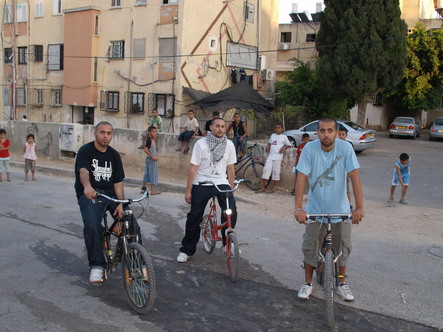 Palestinian rap group Dam. Photo: Nick D
Feature: Around The World in 80 Tunes - Part 2 of 6: Israel
Nick D uncovers the modern bass scene and discovers the passion that Israelis have for reggae and Jamaican music culture.
He catches up with one of the most important bands in Israeli music, Mashina, who mixed ska and rock, and ruled the Israeli live scene during some of the country's most difficult days.
Then, Nick talks with Tamer Nafar of the Palestinian rap group Dam - who as Arab Israelis - are unable to travel to perform in front of their own audience in Palestine and the Gaza Strip.
Module
Electro whizz kid, creator of gaming music and synesthete, Module - aka Jeramiah Ross - talks about his first 'proper' album in six years, Imagineering.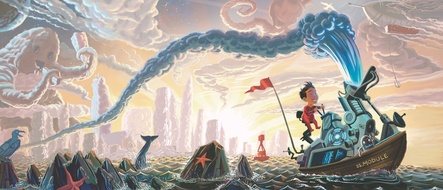 Cover of Module's 'Imagineering' - artwork by Corie Geerders
Music played in this show
2-3pm
Artist: Cairo Knife Fight
Song: The Opiate of the Living
Composer: Gaffaney/Tokona
Album: RNZ recording
Label: RNZ
Artist: King Kapisi
Song: Screems From Da Old Plantation
Composer: Urale,Futialo
Album: Savage thoughts
Label: FMR
Feature: SXSW 2012
Artist: Andrew WK
Song: It's Time to Party
Composer: Andrew WK
Album: I Get Wet
Label: Island

Artist: Cairo Knife Fight
Song: The Violence of Action/The Secrets of Sin/The Origin of Slaves
Composer: Gaffaney/Tokona
Album: II
Label: Liberation

Artist: Electric Wire Hustle
Song: Perception/Waters
Composer: Electric Wire Hustle
Album: Electric Wire Hustle
Label: Every Waking Hour

Artist: King Kapisi
Song: U Can't Resist Us
Composer: B.Urale
Album: FMR NZ Music Sampler
Label: FMR

Artist: Kimbra
Song: Settle Down
Composer: Johnson
Album: Vows
Label: Warner
Artist: Alabama Shakes
Song: Hold On
Composer: Howard
Album: Girls and Boys  
Label: Rough Trade
The Sampler: Bruce Springsteen
Artist: Bruce Springsteen
Songs: We Take Care Of Our Own, Death To My Hometown, Easy Money, Shackled and Drawn,This Depression, Land Of Hope and Dreams
Composer: Springsteen
Album: Wrecking Ball
Label: Columbia
Artist: Woody Guthrie
Song: Tom Joad - Part I
Composer: Guthrie
Album:Talkin Dust Bowl Blues
Label: Buddha
Artist: Lester Flatt, Earl Scruggs & The Foggy Mountain Boys
Song: Foggy Mountain Breakdown
Composer: Scruggs/Flatt
Album: Changin' Times
Label: Collectables
Artist: Unfaithful Ways
Song:  Trouble I'm In
Composer: Williams
Album: Free Rein
Label: Aeroplane
3-4pm
Interview: Elbow
Artist: Elbow
Songs: Starlings, Grounds For Divorce/One Day Like This/Friend Of Ours
Composer: Elbow
Album: The seldom seen kid
Label: Universal

Artist: Sly & the family stone
Song: I Want To Take You Higher
Composer: S Stewart
Album: Greatest Hits
Label: Epic

Artist: Talk Talk
Song: New Grass
Composer: Talk Talk
Album: Laughing Stock
Label: Polygram

Artist: Elbow
Song: Lippy Kids/ Dear Friends/The Birds/Open Arms
Composer: Elbow
Album: Build A Rocket Boys!
Label: Universal
Artist: Rocket Juice and the Moon
Song: Chop Up
Composer: Rocket Juice and the Moon
Album:Rocket Juice and the Moon
Label:Honest Jons
Interview: The Hoodoo Gurus
Artist: The Hoodoo Gurus
Song: I Want You Back
Composer: Faulkner
Album:Gold watch – 20 Golden Greats
Label: Sony Music

Artist: The Hoodoo Gurus
Song: Leilani
Composer: Hoodoo Gurus
Album:Gold watch – 20 Golden Greats
Label: Sony Music

Artist: The Hoodoo Gurus
Song: My Girl
Composer: Faulkner
Album:Gold watch – 20 Golden Greats
Label: Sony Music

Artist: The Hoodoo Gurus
Song: Bittersweet
Composer: Faulkner
Album:Gold watch – 20 Golden Greats
Label: Sony Music
Artist: These Automatic Changers
Song: One Fifty Six
Composer: These Automatic Changers
Album: One Fifty Six
Label: Private
Artist: Moon Duo
Song: Maze
Composer: Moon Duo
Album: Maze
Label:Fuse
Interview: Real Estate
Artist: Real Estate
Song: It's Real, All The Same, Green Aisles, Out of Tune
Composer: Martin Courtney and Real Estate
Album: Days
Label: Domino/EMI
Artist: Cool Rainbows
Song: Reality and a Clue
Composer: Suskow
Album: Whale Rocket
Label: Lil Chief
Gig Guide Bed
Artist: Flight of the Conchords
Song: Business Time
Composer: McKenzie/ Clement
Album: Flight of The Conchords
Label: Sub Pop

Artist: Scribe
Song: Not Many
Composer: Waddams
Album: Not Many
Label: Dirty

Artist: Wooden Shjips
Song: Lazy
Composer: Wooden Shjips
Album: West
Label: Thrill Jockey

Artist: TC
Song: Tap Ho
Composer: Casswell
Album: Tap Ho
Label: Don't Play
4-5pm
Around The World in 80 Tunes - Part 2 of 6: Israel
music details to come
Artist: Mulatu Astatke
Song: Yegelle Tezeta
Composer: Astatke
Album: thiopiques 4: Ethio Jazz & Musique Instrumentale 1969-1974
Label:Buda Musique
Artist: Quakers
Song: Smoke feat JonWayne
Composer:Quakers
Album: Quakers
Label: Stones Throw
Introducing: Black City Lights
Artist: Black City Lights
Song: Parallel
Composer: Black City Lights
Album: Parallel EP
Label: Private
Interview: Module
Artist: Module
Songs: Endlessly Ocean, Make Out Magic, Tears For Asimo, Reflections Scatter, Nantai San Sky, The Pieces Fit, The World Spins Without You
Composer: J Ross
Album: Imagineering
Label: Escape Artists
Artist: Immran
Song: Dignity
Composer: Ross/McLaney
Album: Voyage Of The Corrone
Label: Escape Artists