Music 101 for Saturday 17 March 2012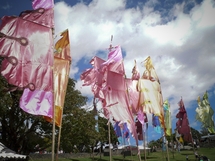 WOMAD Taranaki 2012
Music 101 reporter Emma Smith is on site at the World of Music Arts and Dance festival in the leafy Bowl of Brooklands, New Plymouth, collecting music performances fresh from the main stage, live sessions and interviews from a line up which includes West African superstar Baaba Maal, Congalese Street Musicians Staff Benda Billi, the ancient traditions of Mongolian tribes bought to life by China's Anda Union, the Irish Queen of the accordion Sharon Shannon, and many more diverse local and international artists.
Barons of Tang
Australian Gypsy/Latin/Metal/Goodtime band Barons of Tang got the dance-floor going wild at last year's WOMAD festival, and they've been touring NZ this summer. We catch up with them on site at Luminate festival earlier this year.)
3-4pm
SXSW
We cross live to Sam Wicks, who's in the thick of South By South West, an annual endurance test for bands, media and audiences alike in Austin, Texas. Local representatives at the NZ showcase this year are Avalanche City, Kimbra, Cairo Knife Fight and Electric Wire Hustle.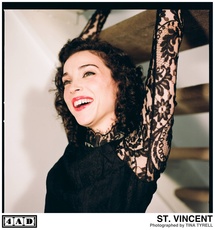 St Vincent
St Vincent is the stage name of Annie Clark (pictured right), a Dallas, Texas bred New York resident. She's a multi-instrumentalist who shreds and grinds on electric guitar while her voice coos above…
Annie earned her stripes as a member of The Polyphonic Spree, Sufjan Stevens' band, and earlier with her uncle and aunt - jazz interpreters Tuck and Patti.
Last year she released her third solo album Strange Mercy - Kirsten Johnstone spoke to St Vincent ahead of her shows in Auckland and Wellington on Sunday and Monday.
She explains why Stuff.co.nz Music critic and writer Simon Sweetman called her the 'Rudest Interviewee Ever...'
Introducing: Five Mile Town

Gig Guide
4-5pm
The Bizarre and Influential World of Alice Cooper
Alice Cooper is into his fifth decade in the rock business. This BBC documentary looks at the way Alice has shaped rock performance around the globe, starting with his latest Halloween gig in London's Alexandra Palace. Led by Alice himself, a high profile selection of music producers, rock journalists, artists and fans, examine the spirit of 'shock rock', and traces Alice's popularity around the globe, through five decades of song-writing and innumerable onstage executions.
Wild Bill Ricketts
Percussionist Wild Bill Ricketts has woven together recordings from several disparate sessions into his second solo album West Wind. The musicians involved are a roll call of Wellington's finest including many members of his usual band the Phoenix Foundation.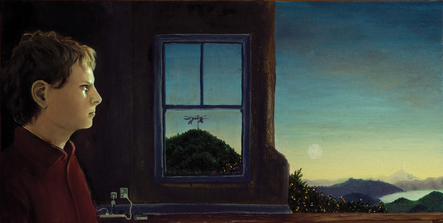 Wild Bill Ricketts Album art, by Amelia Handscome
Music played in this show
2-3pm
WOMAD 2012 Special
Artist: Pascals
Song: Mata Aou
Composer: P Comelade
Album: Pascals
Label: Les Disques Du Soleil Et De L'Acier
Interview: Baaba Maal
Artist:Baaba Maal
Song: Miracle
Composer: Maal, Reynolds, Sciubba
Album: Television
Label: Palm
Interview: Anda Union
Artist: Anda Union
Song: Give You a Rose, Boomborai, Horrai
Composer: Anda Union
Album: The Wind Horse
Label: Hohot
Session: Toninho Ferragutti and Bebe Kramer
Artist: Toninho Ferragutti and Bebe Kramer
Song:
Composer:
Album: Unreleased
Label: RNZ Live Recording
Session: Geoffrey Gurrumul Yunupingu
Artist: Geoffrey Gurrumul Yunupingu
Song: Baru
Composer: Yunupingu
Album: Unreleased
Label: RNZ Recording
Interview: Staff Benda Bilili
Artist: Staff Benda Bilili
Song: Moto Moindo Black Man/ Polio
Composer: Staff Benda Bilili
Album: Très Très Fort
Label: Crammed
Interview: The Barons Of Tang
Artist: Barons of Tang
Song: The of of Of
Composer: Barons of Tang
Album: Knots and Tangles
Label: Magic Roundabout

Artist: Barons of Tang
Song: Even if You're Missing Fingers You Can Make A Fist
Composer: Barons of Tang
Album: Knots and Tangles
Label: Magic Roundabout

Artist: Barons of Tang
Song: The Last Song
Composer: Barons of Tang
Album: Knots and Tangles
Label: Magic Roundabout
3-4pm
Artist: The White Stripes
Song: Dead Leaves and the Dirty Ground
Composer: The White Stripes
Album: White Blood Cells
Label: XL
Live Cross: Sam Wicks at SXSW
Artist: Electric Wire Hustle
Song: Experience
Composer: Manzanza/Wright/Te Kahika
Album: unreleased
Label: Every
Artist:Grimes
Song: Oblivion
Composer: Boucher
Album: Visions
Label: 4AD
Artist: Talking Heads
Song: This Must Be the Place (Naive Melody)
Composer: Byrne, Frantz, Harrison …
Album: Best Of Talking Heads
Label: Sire
Interview: St Vincent
Artist: St Vincent
Songs: Dilettante, Cruel, Year Of The Tiger.
Composer: A Clark
Album: Strange Mercy
Label: 4AD
Artist: French For Rabbits
Song: A Ghost's Broken Heart
Composer: B Singer
Album: Claimed By The Sea EP
Label: n/a
Introducing: Five Mile Town
Artist: Five Mile Town
Song: Saturated
Composer: Five Mile Town/McDonald
Album: EP
Label: n/a
Artist: Eilen Jewell
Song: Queen Of The Minor Key
Composer: Eilen Jewell
Album: Queen Of The Minor Key
Label: Signature
Gig Guide Bed
Artist:Flight Of The Conchords
Song: Business Time
Composer: Clement, McKenzie
Album: Flight Of The Conchords
Label: Sub Pop

Artist: Earth Wind And Fire
Song: Runnin'
Composer: DelBarrio, Dunn, White
Album: All N All
Label: Columbia

Artist: A Dead Forest Index
Song: Anchoring The Hands
Composer: Sherry
Album: Antique EP
Label: Sonorous Circle

Artist: Sola Rosa
Song: Del Ray
Composer: Spraggon
Album: Get It Together
Label: Way Up

Artist: Grada
Song: Dotsy's
Composer: Grada,Farrell
Album: Natural Angle
Label: Grada
4-5pm
Artist: The Crazy World of Arthur Brown
Song: Prelude - Nightmare
Composer: Brown
Album: The Crazy World of Arthur Brown
Label: Touchwood
Feature: The Bizarre and Influential World of Alice Cooper
From the BBC World Service. Music details not supplied.
Artist: The Doors
Song:People Are Strange
Composer: The Doors
Album: Strange Days
Label: Elecktra
Artist: Crosby, Stills & Nash
Song:Suite: Judy Blue Eyes
Composer: Stills
Album: Crosby, Stills & Nash
Label: ATLANTIC
Interview: Wild Bill Ricketts
Artist: Wild Bill Ricketts
Song: West Wind
Composer: Wild Bill Ricketts, Sam Lindsay, Mara TK
Album: West Wind
Label: Economy Records

Artist: Wild Bill Ricketts
Song: Run, The Great Eastern
Composer: Wild Bill Ricketts, Toby Laing
Album: West Wind
Label: Economy Records

Artist: Wild Bill Ricketts
Song: Quail
Composer: Sam Eastgate
Album: West Wind
Label: Economy Records

Artist: Wild Bill Ricketts
Song: Toast And Honey
Composer: Wild Bill Ricketts
Album: West Wind
Label: Economy Records

Artist: Los Destellos
Song: A Patricia
Composer: Delgado
Album: The Roots Of Chicha - Psychedelic Cumbias From Peru
Label: Barbes