Music 101 for Saturday 25 February 2012
2 - 3pm
Sam Wicks and Nick Atkinson went to the seaside to check out this year's music and art festival at Tapapakanga Regional Park which featured performances from @Peace, The Yoots and Gappy Ranks.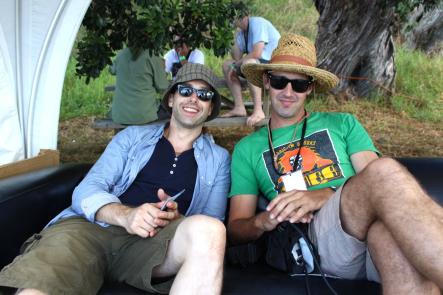 Radio New Zealand on tour: Sam Wicks and and Nick Atkinson at Splore
Drummer with Electric Wire Hustle, Myele Manzanza has just released his beat-heavy debut solo album One. He produced the album between Wellington, New York and Berlin and guests include band mate Mara TK and his father Sam Manzanza.
Access All Areas: Asphalt Tango
German music business Asphalt Tango is currently celebrating a double anniversary - 15 years as a management and booking agency and 10 years as a record company.The label has flourished in the niche market of Balkan beats and brass bands - their mission statement could well be 'No horns, no glory'.
Asphalt Tango has an open ear to both electronica and traditional Balkan music, and as last year's European tour - Balkan Brass Battle - demonstrated, this music only has to be seen... to sell. For Access All Areas this week Asphalt Tango founder Helmut Neumann talks about Balkan brass and beats.
3 - 4pm
Nick Bollinger interviews Roky Erickson, former frontman with the 13th Floor Elevators and known as The Godfather of Psychedelic Rock, ahead of his New Zealand show.
The Shanghai based duo featuring drummer Rhys O'Loughlin of Australia's Bang Bang Aids and first time Chinese guitarist F talk about making punk music in China.
4 - 5pm
Musical Chairs: Leo de Castro - The Elusive Legend Part Two:  Funk, Junk and Jingles
A series of sell-out concerts in the late 1980s celebrating the talented Leo De Castro, reassured the reclusive Kiwi singer that his contribution to Australian music had not been forgotten. When he reappeared in concert in Hobart in 2008 it finally put to rest persistent rumours of his death.
The Holiwater Band - a collective of artists from the UK, India and New Zealand - blend Indian classical composition in a contemporary style. The Project is dedicated to the Spirit of the Ganges River, India, and brings together film, music and performance with the ultimate goal of focusing attention to the sustainable management of water. 

Live at Prana festival, New Zealand
Music played in this show
2-3pm
Artist: Sparrow and his Troubadours
Song: Mi Son Cha
Composer: Vladimir Vassileff
Album: Sparromania!
Label: Strut
Splore Festival Report
Artist: The Yoots
Song: E Papa Waiari
Composer: Traditional
Album: Sing Along With the Yoots
Label: Economy Records

Artist: @peace
Song: Sky Is Falling
Composer: @peace
Album: @peace
Label: Private

Artist: Gappy Ranks
Song: Pumpkin Belly
Composer: Gappy Ranks
Album: Put The Stereo On
Label: Greensleeves
Artist: Funkommunity
Song: Chequered Thoughts
Composer: R Fraser & I Aeselli
Album: Chequered Thoughts
Label: Funkommunity
Interview: Myele Manzanza
Artist: Myele Manzanza
Song: Big Space, Elvin's Brew
Composer: M.Manzanza, M. de Clive-Lowe
Album: One
Label: Every waking Hour/Rhythmethod

Artist: Myele Manzanza
Song: Delay
Composer: M.Manzanza, D.Wright
Album: One
Label: Every waking Hour/Rhythmethod
Artist: Myele Manzanza
Song: City Of Atlantis
Composer: M.Manzanza, K.Tamati, A.Lamb, J.Wylie
Album: One
Label: Every waking Hour/Rhythmethod

Artist: Myele Manzanza
Song: 7 Bar Thing
Composer: M.Manzanza, M.TeKahika, J.Wylie
Album: One
Label: Every waking Hour/Rhythmethod
Artist: Julien Dyne
Song: Layer Featuring Mara TK
Composer: Dyne,TK,McCallum,Aesili
Album: Pins and Digits
Label: FTC
Access All Areas: Asphalt Tango
Artist: Fanfare Ciocarlia
Song Title: Born To Be Wild
Composer: arr . Fanfare Ciocarlia
Album Title: Best Of Gypsy Brass
Label: Asphalt Tango Records
Cat no.: B002IVRB3I

Artist: Ion Petre Stoican
Song Title: Hora lui Sile
Composer: Ion Petre Stoican
Album Title: Sounds From A Bygone Age Vol.1
Label: Asphalt Tango Records
Cat no.: B000BL999G

Artist: Jony Iliev & band
Song Title: Nadire
Composer: Jony Iliev & band
Album Title: Ma maren ma
Label: Asphalt Tango Records
Cat no.: download

Artist: Besh o droM
Song Title: Cigansko oro
Composer: Besh o droM
Album Title: Can't Make Me!
Label: Asphalt Tango Records
Cat no.: B000084T6R

Artist: Kottarashky
Song Title: Chetiri
Composer: Kottarashky
Album Title: Opa Hey!
Label: Asphalt Tango Records
Cat no.: B002RODV1W

Artist: Mahala Rai Banda
Song Title: Hora Din Mahala
Composer: Mahala Rai Banda
Album Title: Ghetto Blasters
Label: Asphalt Tango Records
Cat no.: B002L9PQ2K

Artist: Taraf de Haidouks
Song Title: Rustem
Composer: Taraf de Haidouks
Album Title: Princes Amongst Men
Label: Asphalt Tango Records
Cat no.: B00186BZN6

Artist: Fanfare Ciocarlia
Song Title: Disco Dzumbus
Composer: Fanfare Ciocarlia
Album Title: Balkan Brass Battle
Label: Asphalt Tango Records
Cat no.: B004YG8F1M
3-4pm
Artist: Roky Erikson and the Aliens
Song: I Walked with a Zombie
Composer: Erikson
Album: You're Gonna Miss Me: The Best of Roky Erickson
Label: RestlessRecords
Interview: Roky Erickson
Artist: 13th Floor Elevators
Songs: You're Gonna Miss Me, Reverberation
Composer: Erickson
Album: The Psychedelic Sounds Of The 13th Floor Elevators
Label: Fuel 2000

Artist: Roky Erickson and Okkervill River
Songs: Goodbye Sweet Dreams, John Lawman, True Love Cast Out All Evil
Composer: Erickson
Album: True Love Cast Out All Evil
Label: Spunk

Artist: Roky Erickson
Songs: The Creature With The Atom Brain, Two-Headed Dog
Composer: Erickson
Album: The Evil One
Label: CBS
Artist: Count Five
Song: Psychotic Reaction
Composer: Atkinson, Byrne, Chaney
Album: Nuggets: Original Artyfacts from the First Psychedelic Era
Label: Rhino
Artist: The MC5
Song: Ramblin' Rose
Composer: Wilkin, Burch
Album: Kick Out the Jams
Label: Elektra
Introducing: Fuyuko's Fables
Artist: Fuyuko's Fables
Song: No Such Thing As A Green Eyed Fox
Composer:Fuyuko's Fables
Album:Fuyuko's Fables
Label:
Artist: Opossom
Song: Getaway Tonight
Composer: Nielson, Runga
Album: Electric Hawaii
Label: Dark Summer Records
Artist: Black Lips
Song: Raw Meat
Composer: Alexander
Album: Arabia Mountain
Label: Vice
Interview: Pairs
Artist: Pairs
Song: Generation, Cloud Nine, Five Kuai, Grandma Pills
Composer:Pairs
Album:Summer Sweat
Label:
Gig Guide
4-5pm
Artist:Rough Justice
Song: When I Get To Heave
Composer:
Album:
Label: Radio NZ
Leo de Castro pt 2
Artist, song, composter, album, label
King Harvest, Witchita Lineman/By the Time I Get To Phoenix (Webb)
Johnny Rocco Band, (Punch / Paige), Heading in the Right Direction, Rocco,
Leo De Castro, Lucille (Penniman/Colins), Voodoo Soul, Big Beat Music, BBM004
Leo De Castro & Friends, La La Song (Friends) , Sunbury Live, Summer Jam (Havoc/Aztec) 1
Friends, Ayiko Bia (Osibisa/ Teddy Osei) 1972 (live) unreleased Johnny Rocco Band, What Will You Do The Rest of Your Life (Dunlop / Richards), Rocco, RITZ (L 35681)
Johnny Rocco Band, Sweet Kisses, (Punch / Paige), Rocco, RITZ (L 35681)
Johnny Rocco Band, Good Times ((Olson / Riviera / Monette / Bridges / Guzman / Daird), Rocco, RITZ (L 35681)
Johnny Rocco Band , Heading in the Right Direction (Punch / Paige) ), Rocco, RITZ (L 35681)
Johnny Rocco Band, Baby's Gonna Make It, (De Castro / Buchanan / Punch / Partridge / Dunlop), Rocco, RITZ (L 35681)
Johnny Rocco Band Knockin On Your Door, (Dunlop), Rocco, RITZ (L 35681)
Leo de Castro jingles
Leo De Castro, Sitting Here In Limbo (Bright-Cliff). Long White Clouds, Big Beat Music, BBM005
Babylon, Hindley St (Partridge), Warner Brothers
Babylon, Suspicious Minds, (Mark James),Warner Brothers
Leo De Castro, Green Onions, (Jones, Cropper, Steinberg, Jackson) Voodoo Soul, Big Beat Music, BBM004
Leo De Castro, Shake (Cooke), Voodoo Soul, Big Beat Music, BBM004
Leo De Castro, Fooled Around and Fell In Love (Bishop), Voodoo Soul, Big Beat Music, BBM004
Leo De Castro, Poppas Got A Brand new Bag,(Brown), Voodoo Soul, Big Beat Music
Leo De Castro, Crazy, (Nelson), Long White Clouds, Big Beat Music,
Leo De Castro, Move It On Over, (Williams), Long White Clouds, Big Beat Music,
Leo De Castro, Good Rocking Tonight (Brown), Long White Clouds, Big Beat Music,
Leo De Castro & the Warriors, Daylight, (Womack) from DVD soundtrack, Live at Republic Bar & Cafe, 2008
Leo De Castro, Green Onions (Jones, Cropper, Steinberg,Jackson), Voodoo Soul, Big Beat Music, BBM004
Leo De Castro, Lucille (Penniman/Colins), Voodoo Soul, Big
Artist: Fly My Pretties
Song: Apple Heart ¨
Composer: Lauren Mitchell
Song: Am I Gonna Make It
Composer: Francis Kora
Album: Fly My Pretties IV
Label: Loop
Interview: Holiwater
Artist: The Holiwater Project
Song: Revati's Lament
Composer: Vikash Maharaj
Song: Gupha
Composer: Tom Bailey
Song: Hriday
Composer: Vikash Maharaj
Song: Lament
Composer: Vikash Maharaj
Song: Ganga
Composer: Vikash Maharaj
Album: The Holiwater Project
Label: Holiwater
Artist: International Observer
Song: Vale Bengali
Composer: Bailey
Album: All Played Out
Label: Round Trip Mars