Music 101 for Saturday 21 January 2012
12 -1pm
Big Day Out Wrap Up
We report on the final Big Day Out festival to be held in Auckland, including interviews with Soundgarden, Battles and My Chemical Romance.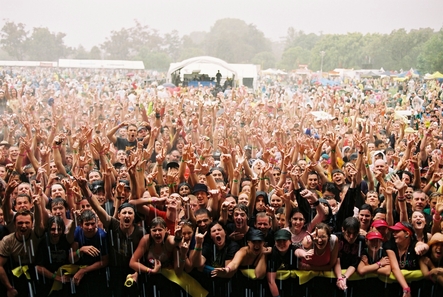 Adventures in Musicland: Tom Scott in South-East Asia
The day after the final recording session for local hip hop outfit Home Brew's forthcoming double album was in the can, frontman Tom Scott jumped on a plane. Destination: Thailand, Laos and Cambodia, where he applied his musician's ears to sample the sounds, smells and tastes of new lands and different cultures.
1 - 2pm
Panel: Music in Print - Media Evolution 2011
Writing about music may well be like dancing about architecture, but there are still hundreds of column-inches dedicated to it each week. NZ music print - both magazines and newspapers - saw various machinations during 2011, with much behind-the-scenes desk hopping as various titles came and went, plus re-formatting and experimenting with multimedia publishing - all following similar developments being tried overseas in an effort to keep music writing economically viable. We canvas a selection of local music print editors.
Noel Gallagher
Noel Gallagher is in New Zealand with his new band High Flying Birds for the Big Day Out, with a few crowd-pleasing Oasis songs thrown into the set - we talk to him about his love of 60s Rhythm and Blues, and the in-fighting that marred Oasis.
2 - 3pm
Nirvana - Nevermind Part 2 of 2
Twenty years after the release of Nirvana's break-through album Nevermind, the remaining band members Dave Grohl and Krist Novoselic, along with producer Butch Vig, reminisce about the album, and their pal, the late Kurt Cobain. They were joined by a live studio audience for a rare Q&A session, which was hosted by the Daily Show's Jon Stewart.
Kearney Barton, Johnny Otis, Jimmy Castor
We pay our respects to some influential musicians who died this week.
The Sampler: The Black Keys
Nick Bollinger takes a listen to El Camino - the new one from Ohio retro-ists The Black Keys.
3 - 4pm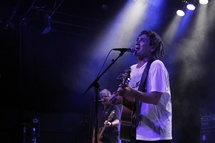 Todd Hunter interview - Dragon
Nick Atkinson caught up with the original Dragon member as the band was inducted into the New Zealand Music Hall of Fame in 2011.
Live: Dragon at the Power Station
In November 2011 fellow Ponsonby scenesters of the 70s Hello Sailor and Dragon performed together again for the first time in around 20 years, in a packed show at Auckland's Power Station. The home-town crowd welcomed Dragon to the stage with open arms and lungs as they worked through a classic set including Still in Love, April Sun in Cuba, Are You Old Enough? and a new one, Heart of Gold.
Gig Guide
4 - 5pm
MixTape: Paul McLaney
Musical guests compile a C60, and talk us through their selections. Today, Mushroom music publisher, solo artist, Gramsci and Nameless Sons member, and record label owner, Paul McLaney.
Music played in this show
12-1pm
Artist: Battles
Song: Leyendecker
Composer: Battles
Album: Battles
Label: Warp

Big Day Out goodbye

Artist: Battles
Song: My Machines
Composer: Gary Newman, Battles
Album: Gloss Drop
Label: Warp

Artist: David dallas
Song: Caught In A Daze
Composer: David Dallas
Album: The Rose Tint
Label: Dirty

Interview: Soundgarden's Kim Thayil  

Artist: Soundgarden
Songs: Jesus Christ Pose, Rusty Cage  
Composer: Cornell/Thayil  
Album: A Sides
Label: A&M
Artist: Johnny Cash
Song: Rusty Cage
Composer: Cornell
Album: American Unchained  
Label: American Recordings

Artist: @Peace
Song: My World
Composer: Scott/Tuiasau
Album: @Peace
Label: Private

Tom Scott In Thailand PT 1
Artist: Various
Song: Damiyen
Composer: Traditional
Album: Chants and Music from Buddhist Temples  
Label: ARC

Artist: Various
Song: Drum Dance (Trommeltanz)
Composer: Traditional
Album: Chants and Music from Buddhist Temples  
Label: ARC

Artist: Various
Song: Funeral Music (Begräbnismusik)
Composer: Traditional
Album: Music from Thailand
Label: ARC

Artist: The Petch Phin Thong Band
Song: Soul Lam Plearn
Composer: The Petch Phin Thong Band
Album: The Sound Of Siam: Leftfield Luk Thung, Jazz & Molam In Thailand 1964-1975
Label: Soundways

1-2pm
Artist: Wilco
Song: A Magazine Called Sunset  
Composer: Tweedy
Album: Australian Ep
Label: Nonesuch
Panel: Music Media in Print

Artist: The Horrors
Song: Changing The Rain
Composer: The Horrors
Album: Skying
Label: XL
Artist: Oasis
Song: Don't Look Back In Anger
Composer: N Gallagher
Album: Familiar to Millions
Label: Big Brother

Interview: Noel Gallagher

Artist: Oasis
Song: D'You Know What I Mean?/Wonderwall/Whatever
Composer: N.Gallagher
Album: Time Flies… 1994-2009
Label: Big Brother/Sony Music

Artist: Noel Gallagher
Song: AKA… Broken Arrow/AKA… What a Life!/The Death of You and Me
Composer: N.Gallagher
Album: Noel Gallagher's High Flying Birds
Label: Sour Mash/Mercury Records

Artist: Amorphous Androgynous
Song: Mountain Goat
Composer: Cobain, Dougans
Album: Tales of Ephidrina
Label: Astralwerks
2-3pm
Artist: Pacifier
Song: Home Again
Composer: Toogood
Album: Live
Label: Warner
Nirvana Special: interview with Krist Novoselic, Dave Grohl, and Butch Vig.
Artist: Nirvana
Song: Drain You
Composer: Cobain /Nirvana
Album: Nevermind
Label: Geffen

Artist: Lenny Kravitz
Song: Are You gonna go my Way
Composer: Kravitz , Ross
Album: Are You gonna go my Way
Label: Virgin

Artist: Nirvana
Song: Lounge Act
Composer: Cobain /Nirvana
Album: Nevermind
Label: Geffen

Artist: Nirvana
Song:Polly
Composer: Cobain  /Nirvana
Album: Nevermind
Label: Geffen
Artist: Nirvana
Song: Smells Like teen Spirit
Composer: Cobain  /Nirvana
Album: Nevermind
Label: Geffen
Artist: Nirvana
Song: Something in the Way
Composer: Cobain  /Nirvana
Album: Nevermind
Label: Geffen
Artist: Nirvana
Song: On a Plain
Composer: Cobain  /Nirvana
Album: Nevermind
Label: Geffen
Artist: The Sonics
Song: Psycho
Composer: Roslie
Album: Psychosonic
Label: Big Beat
Kearny Barton interview
Artist: Etta James
Song: I'd Rather Go Blind
Composer: Jordan, Foster
Album: Her Best
Label: Chess
Artist: Johnny Otis
Song: Willie and the Hand Jive
Composer: Otis
Album: Land of 1000 Dances
Label: Ace
The Sampler - Black Keys
Artist: The Black Keys
Song: Lonely Boy
Composer: Auerbach, Carney, Burton
Album: El Camino
Label: Nonesuch
Artist: The Black Keys
Song: Run Right Back
Composer: Auerbach, Carney, Burton
Album: El Camino
Label: Nonesuch
Artist: The Black Keys
Song: Gold On The Ceiling
Composer: Auerbach, Carney, Burton
Album: El Camino
Label: Nonesuch
Artist: The Black Keys
Song: Dead and Gone
Composer: Auerbach, Carney, Burton
Album: El Camino
Label: Nonesuch
Artist: The Black Keys
Song: , Hell of a Season
Composer: Auerbach, Carney, Burton
Album: El Camino
Label: Nonesuch
Artist: The Black Keys
Song: Little Black Submarines
Composer: Auerbach, Carney, Burton
Album: El Camino
Label: Nonesuch
Artist: The Black Keys
Song: Do The Rump
Composer: Kimbrough
Album: The Big Come Up
Label: Alive
3-4pm
Artist: Toy Love
Song: Pull Down the Shades
Composer: Bathgate, Dawson, Dooley, Kean, Knox, Walker
Album: Toy Love - Cuts
Label: Flying Nun
Todd Hunter Interview
Artist: Dragon
Song: Wilder World
Composer: M Hunter, T Hunter
Album: Sunshine to Rain
Label: Liberation Blue
Artist: Dragon
Song: Rain
Composer: M Hunter, T Hunter, J Pigott
Album: Body and the Beat
Label: Polydor
Dragon Live
Artist: Dragon
Song: Still In Love with You
Composer: Hewson
Label: RNZ Recording
Artist: Dragon
Song: 21 (Heart of Gold)
Composer:  T Hunter
Label: RNZ Recording
Artist: Dragon
Song:April Sun in Cuba
Composer: Hewson, M Hunter
Label: RNZ Recording
Artist: Dragon
Song: Are You Older enough
Composer: Hewson
Label: RNZ Recording
Artist: Hello Sailor
Song: Blue Lady
Composer:Brazier
Album: Hello Sailor
Label: Festival
Gig Guide Bed
Artist: St Vincent
Song: Cruel
Composer: Clark
Album: Strange Mercy
Label: 4AD
Artist: Joy Division
Song: Isolation 
Composer: Curtis/Joy Division
Album: Closer
Label: Qwest
Artist: Shogun Orchestra
Song: Bamako
Composer: Rudd
Album: Shogun Orchestra
Label: Economy
Artist: Beastwars
Song: Lake Of Fire
Composer: Beastwars
Album: Beastwars
Label: Destroy
Artist: Nameless Sons
Song: Forget/Forgive
Composer: McLaney/Blake/Park
Album: Kiwi Hit Disc
Label: NZ On Air
4-5pm
Paul Mclaney Mix Tape
Artist: Nick Drake
Song: Riverman  
Composer: Drake
Album: Five Leaves Left
Label: Island
Artist: Talk Talk
Song: New Grass (9 mins long)
Composer: Hollis
Album: Laughing Stock
Label: Polydor
Artist: Jethro Tull
Song: Requiem 
Composer: I Anderson
Album: Minstrel In The Gallery
Label: Chrysalis
Artist: Roy Harper
Song: Another Day
Composer: Harper
Album: Flat Baroque and Berserk (1970)
Label: Science Friction
Artist: Aphex Twin
Song: Avril 14th
Composer: R D James
Album: Drukqs
Label: Warp
Artist:Peter Gabriel
Song: Here Comes The Flood
Composer: Gabriel
Album: Shaking The Tree
Label: Real World
Artist:Richard And Linda Thompson
Song: Calgary Cross
Composer: R Thompson
Album: I Want To See The Bright Lights Tonight 
Label: Island
Artist: David Crosby
Song: Orleans
Composer: Crosby
Album: If I Could Only Remember My Name
Label: Rhino
Artist: Boards of Canada
Song: Music is Math
Composer: Eoin/Sanderson
Album: Geogaddi