Music 101 for Saturday 14 January 2012
12 - 1pm
Tune-Yards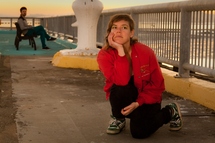 One of the most exciting acts to emerge last year was Tune-Yards - the musical outlet for Merril Garbus (right) . She plays one show this week in Auckland, with her bassist and two saxophonists, and stops by for a chat and a tune.
Adventures in Musicland: Otara - The Music of the Markets
From the sounds of the Islands, to fledgling hip hop and reggae labels, to bootleg CDs of all stripes sold straight out of car boots, South Auckland's Otara Markets is a hive of musical activity. Music reporter Sam Wicks rolls through the neighbourhood on a guided tour of a grassroots operation that has germinated businesses like Urban Pacifika and Dawnraid Entertainment, and launched artists like Jamoa Jam, Tha Feelstyle and Young Sid.
1 - 2pm
Panel: NZoA - Making Tracks
A year on from the Caddick Report - which New Zealand on Air (NZoA) commissioned to review its music-related activities - and 6-months into 'Making Tracks' - the revised scheme the Govt funding body set up in response to that report, to support getting more New Zealand music on air... how is it working so far? Joining Music 101 host Kirsten Johnstone to talk it over are David Riddler from NZoA, Manu Taylor (station manager of bFM Auckland, with a background in record labels and retail) and Chris Prowse, a musician and former CEO of NZoA.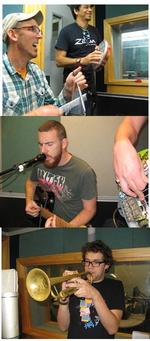 Session: Batucada Sound Machine
While they don't play in New Zealand all that often, this multicultural 10 piece Auckland band have spent the last few years on festival circuits throughout Europe. They're just about to release a new album, and squeeze into our studio to play some new songs. (Members pictured left - right, top to bottom - James Hughes and Filipe Gomez, Ritchie Setford, and Finn Scholes)
2 - 3pm
Nirvana - Nevermind Part 1 of 2
Twenty years after the release of Nirvana's break-through album Nevermind, the remaining band members Dave Grohl and Kirst Novoselic, along with producer Butch Vig reminisce about the album, and their pal the late Kurt Cobain. They are joined by a live studio audience for a rare Q&A session, hosted by the Daily Show's Jon Stewart.
Fleet Foxes
Folk choristers Fleet Foxes are in NZ this weekend, we'll catch up with the Seattle natives before their shows.
Kirsten with Robin Pecknold
3 - 4pm
Live: Avalanche City
It's been quite a year for Dave Baxter and his Avalanche City pseudonym. His first song 'Love Love Love' becoming New Zealand's fastest selling digital single, while the folk-infused pop sounds of his debut album Our New Life Above the Ground found favour with fans and critics alike. Assembling an array of merry minstrels wielding accordions, mandolins and glockenspiels, Avalanche City played a series of international showcases including dates in Los Angeles, New York and London. We catch them on their return at The Studio on Auckland's K'Rd.
4 - 5pm
MixTape: James Moss of Jayrem Records
We invite musical guests to compile a C60, and talk us through the selections. Jayrem Records celebrated 35 years of releasing New Zealand bands and musicians in 2011, making it one of our longest-lived labels. It's been driven by the passion of one man - James Moss - who began releasing local Wellington acts on vinyl in 1975, and over time has developed an eclectic repertoire including Maori, reggae, female singer/songwriters, metal, punk, instrumental, country, jazz/blues, poetry and children's music - making a significant contribution to New Zealand's music culture. James is packing up the vinyl and CDs and moving lock, stock and barrel to the United Kingdom this year. But first he chooses some of his favourite tunes, and tells us the stories behind them.
Music played in this show
12-1pm
Artist: Sione Aleki
Song: Polynesian Love Song
Composer: Trad
Album: The Great Bill Sevesi - Instrumentals
Label: Rajon

Artist: Tune-Yards
Song: Gangsta
Composer: Garbus/Brenner
Album: WhoKill
Label: 4AD

Tune-Yards Session

Artist: Tune-Yards
Songs: You Yes You, News
Composer: Garbus
Album: n/a
Label: RNZ Recording

Artist: Tha Feelstyle
Song: Su'ga Ea!
Composer: Futialo / Morton / Ngatae
Album: Break it to Pieces
Label: FMR
Otara: The Music Of The Markets
Artist: Sisters Underground
Song: In the Neighbourhood
Composer: (C.Jansson/B.Makaoeafi/Orogbu)
Album: Pasifika – The Collection
Label: Dawn Raid Entertainment

Artist: Angela Afeaki
Song: Happy Happy Tonga
Composer: (W.Afeaki/J.Afeaki/A.Afeaki)
Album: Pasifika – The Collection
Label: Dawn Raid Entertainment

Artist: Deceptikonz ft Adeaze
Song: Listen to the Music
Composer: (M.Sagapolutele/D.Savelio/D.Puniani/D.Maoata/F.Tupa'i/L.Tupa'i)
Album: Heavy Rotation
Label: Dawn Raid Entertainment

Artist: Pacific Soul
Song: Mamalu o Samoa
Composer: (L.Brown)
Album: Pacific Soul
Label: King Music

Artist: Sweet & Irie
Song: Sweet & Irie
Composer: (E.Ru/M.Sagapolutele/T.Leaoasavaii)
Album: Pasifika – The Collection
Label: Dawn Raid Entertainment

Artist: Mz J ft. Deacon Kelemete Ta'ale
Song: O Le Atua Lava
Composer: (D.Ta'ale/H.Kelemete/D.Leauga)
Album: Sione's 2: Unfinished Business
Label: Dawn Raid Entertainment

Artist: OMC
Song: We Are the OMC
Composer: (Fuemana/Fuemana/Lotto/Ave)
Album: Pasifika 2 – The Collection
Label: Dawn Raid Entertainment

Artist: Moizna
Song: Just Another Day
Composer: (Fuemana/Fuemana/Lotto/Ave)
Album: Pasifika – The Collection
Label: Dawn Raid Entertainment

Artist: Mr Tee ft. Ben Vai
Song: Popole Ia Oe
Composer: (M.Tee/B.Vai/V.Keil)
Album: Pasifika – The Collection
Label: Dawn Raid Entertainment
Artist: OMC
Song: How Bizarre Instrumental  
Composer: Jansson / Fuemana
Album: How Bizarre single
Label: Polydor
1-2pm
Artist: Moana And The Moahunters  
Song: A.E.I.O.U (Akono Te Reo)
Composer: Maniapoto / Ripia / Pearce / Dee
Album:Tahi
Label: Maori Music

Panel: NZ On Air - Making Tracks
Artist: Bannerman  
Song: Rocks are just lonely Hearts
Composer: Setford
Album: Dearly Departed
Label: Bannerman
Session: Batucada Sound Machine
Artist: Batucada Sound Machine
Song: Un Poquito, Do You Know What I Know, The Best For You
Composer: Batucada Sound Machine
Album: n/a
Label: Radio New Zealand recording
Artist: Charles Bradley
Song: Stay Away
Composer: Cobain
Album: No Time For Dreaming
Label: Daptone
2-3pm
Artist: Jimi Hendrix
Song: Cross Town Traffic
Composer: Hendrix
Album: Experience Hendrix
Label: MCA
Nirvana Feature
Artist: Nirvana
Song: Come as You are, Smells Like Teen Spirit, Lithium, Endless, Nameless
Composer: Cobain /Nirvana
Album: Nevermind
Label: Geffen

Artist: Black Sabbath
Song: Hand of Doom
Composer: Butler, Iommi, Osbourne, Ward
Album: Paranoid
Label: Warner

Artist: Mudhoney
Song: You Got It
Composer: Mudhoney
Album: Mudhoney
Label: Geffen

Artist: The Fleetwoods
Song: Come Softly To Me
Composer: Ellis/Troxel/Christopher
Album: The Very Best Of The Fleetwoods
Label: EMI
Interview: Fleet Foxes' Robin Pecknold
Artist: Fleet Foxes
Song: Sim Sala Bim, Helplessness Blues, The Shine/An Argument
Composer: Pecknold
Album: Helplessness Blues
Label: Subpop

Artist: Crosby Stills and Nash
Song: Helplessly Hoping
Composer: Stills
Album: Crosby Stills and Nash
Label: Atlantic

Artist: King Creosote + Jon Hopkins  
Song: Bubble
Composer: Anderson/Hopkins
Album: Diamond Mine
Label: Domino
3-4pm
Live: Avalanche City
Artist: Avalanche city
Song: Snow, The Streets, Everybody Knows, You & I, Love Don't Leave, Love Love Love, Ends in the Ocean
Composer: Dave Baxter
Album: Unreleased
Label: RNZ Recording
Artist: First Aid Kit
Song: Marianne's Son
Composer: Soderburgh/Soderburgh
Album: The Lion's Roar  
Label: Wichita
Interview: Beirut's Zach Condon
Artist: Beirut
Song: Vagabond/Port of Call/East Harlem
Composer: Z.Condon
Album: The Rip Tide
Label: Pompeii Records
Gig Guide Bed

Artist: Joy Division
Song: Isolation  
Composer: Curtis/Joy Division
Album: Closer
Label: Qwest

Artist: Barons Of Tang
Song: The Of Of Of
Composer:The Barons Of Tang
Album: Knots and Tangles
Label: Magicroundabout

Artist: Kerretta
Song: Shepherds Thread
Composer: Kerretta
Album: Saansilo
Label: Golden Antenna
4-5pm
The Mixtape: James Moss, Jayrem
Artist: Aotearoa
Song: Maranga Ake Ai
Composer: J Williams
Album: Tihei Mauriora / He Waita Mo Te Iwi (Singing For Our People)
Label: Jayrem

Artist: Charlotte Sometimes  
Song: Red Letter
Composer: Yates
Album: Queen Charlotte Sounds
Label: Rimu

Artist: Mahinarangi Tocker
Song: Forever
Composer: Tocker
Album: The Mongrel In Me
Label: Jayrem

Artist: Brendan Power  
Song: Vivaldi
Composer: Vivaldi
Album: Dawn to Dusk
Label: Jayrem

Artist: Flesh D-Vice
Song: Flaming Soul
Composer: Dwyer
Album: Flaming Soul
Label: Jayrem

Artist: Knightshade
Song: Blood & Money
Composer: Knightshade
Album: No Peace For the Wicked
Label: Jayrem

Artist: Wai
Song: Mihi Tuatahi
Composer: Ripia/McGregor
Album: Wai 100%
Label: Jayrem

Artist: Patea Maori
Song: Aku Raukura
Composer: Prime/Pewhairangi
Album: Poi E
Label: Jayrem