Music 101 for Saturday 27 August 2011
Saturday 27 August
2-3pm
The Sampler: Beirut
Zach Condon is back with his first proper Beirut album since the unexpected success of 2007's The Flying Club Cup. Nick Bollinger lends an ear to see how it measures up.
Access All Areas: 2Cellos
2CELLOS are Luka Sulic and Stjepan Hauser. These Croatian virtuosos have gone from obscurity to near ubiquity in double quick time, with their duelling cellos version of Michael Jackson's Smooth Criminal garnering over 5 million hits on YouTube in less than 3 months.
2CELLOS have just released their self-titled debut album, featuring unique interpretations of Nirvana, Guns N Roses, U2 and Coldplay.
The Jayhawks
US alt-country band The Jayhawks are about to release their first album in eight years. Written in the barren Joshua Tree region, Mockingbird Time marks a return to the original songwriting partnership of Mark Olson and Gary Louris. We speak to Olson about going back to his roots.
Jerry Leiber and Nick Ashford - Obituary
We pay tribute to two great songwriters - Lieber who co-wrote Jailhouse Rock and Hound Dog for Elvis, and Ashford who co-wrote many Motown hits for Diana Ross.
3-4pm
Osaka Monaurail
Japanese funk aficionados Osaka Monaurail take their cues from deep funk, a gritty, soulful strain of the music. In particular they owe a debt to Soul Brother Number One, James Brown, and the J.B.'s, the band that backed him in the first half of the '70s. We speak to Osaka Monaurail about the intersections between Japanese culture and the funk.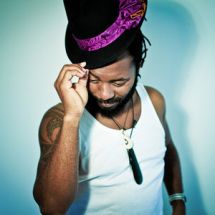 Bohemian Thought
London-born Nigerian spoken-word artist Bohemian Thanni (pictured) is living in Wellington where he's found kindred musical souls to help him realise his first album, which deals with subjects such as dyslexia, war, racism, and poverty. Listen to the interview with Bohemian Thought here
Tourettes
People's poet and working class hero Tourettes has made a career out of his mission statement of "getting the words out of my head and into yours". On LP number four he's been assisted by producer Karl Steven, working side-by-side in Steven's Mt Album bedroom to put Tiger Belly to tape. We speak to Tourettes.
Plus our weekly gig guide.
4-5pm
Musical Chairs featuring Annea Lockwood
"Set upright piano (not a grand) in an open space with the lid closed. Spill a little lighter fluid on a twist of paper and place inside, near the pedals. Light it. Balloons may be stapled to the piano. Play whatever pleases you for as long as you can."
This is the score for Annea Lockwood's 1968 piece 'Piano Burning'. She's done other things to the instrument - drowned one in a swamp, planted one in the garden, and tied one to helium balloons. Lockwood spends months at a time floating down rivers with microphones, recording the sounds along the way and speaking to the people who rely on the waterways. She has composed pieces for conch shell, didgeridoo and Taonga Puoro, and set poems written by prisoners from Guantanamo Bay to music. Born in Canterbury in 1939, the daughter of a keen tramper and a musician, Annea Lockwood is a pioneer in performance art, electroacoustic and experimental music, field recording and sound art. She left NZ in 1961 to pursue study in London, Germany and Holland, and has lived in New York since 1972. Kirsten Johnstone talks to Annea Lockwood on a rare visit to her homeland.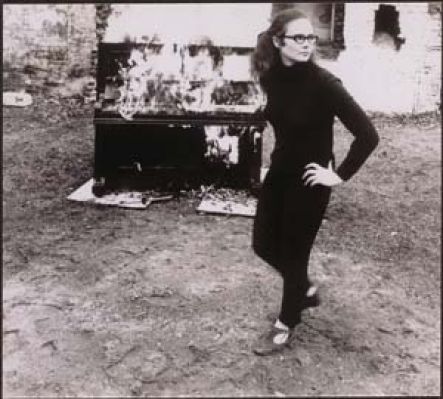 Annea Lockwood at the premiere of Piano Burning, 1968
Hear more piano cruelty on Tim Prebble's Music of Sound blog.
Nick Bollinger talks to the southern songstress about her long awaited debut album, recorded with How Bizarre producer Alan Jansson, and what she's been up to in the meantime.
New Zealand Internet users accused of illegal file sharing can be sent warning notices from this Thursday the 1st of September 2011. Hear more about the implications of The Copyright (Infringing File Sharing) Amendment Act from Radio New Zealand National's This Way Up, and Nine To Noon.