Music 101 for Saturday 9 July 2011
2-3 pm
The Sampler: Gillian Welch
It's been eight years since the last album from revered bluegrass/folk singer-songwriter Gillian Welch - but does the time in-between matter when the music sounds as old as the hills?
Reverend Beat Man and Delaney Davidson
Swiss trash-voodoo-billy-bluesman Reverend Beat Man and his Lyttelton mate Delaney Davidson stop by our studios to play some songs, en-route to terrorising the rest of the country.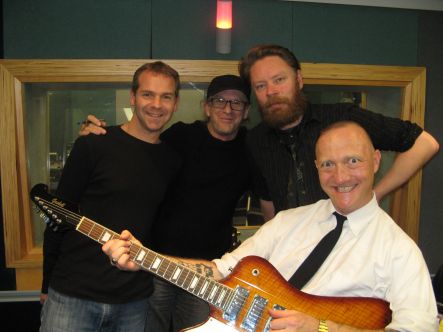 L-R - RNZ engineer Jeremy Ansell, Trevor Reekie, Delaney Davidson, and Reverend Beat Man in front.
RDU's mobile radio party
Alternative Radio Station RDU was left unable to broadcast from their building after the February earthquake - now they've renovated a horse truck, inserted radio gear, and are taking music to the streets. We speak to RDU managers at their launch party.
Introducing: The Golden Awesome
3-4 pm
Te Reo Karaoke (at your place)
Te Reo Māori advocate and musician Ngahiwi Apanui explains the popular Māori waiata Me He Manu Rere, so we can all sing along...
ME HE MANU RERE
Me he manu rere ahau e,
Kua rere ki tō moenga,
Ki te awhi tō tinana,
Aue, aue!
E te tau, tahuri mai.
Kei te moe te tinana,
Kei te oho te wairua,
Kei te hotu te manawa,
Aue, aue!
E te tau, tahuri mai.
Adeaze
Nainz and Viiz Tupa'i are Adeaze, church-raised, soul-singing brothers whose close harmonies and sweet falsettos have provided the soundtrack to many a New Zealand nuptial. We talk to the brothers Tupa'i of Adeaze about their wedding-friendly R&B.
Asa
Asa, of Nigerian decent, was born in Paris, but moved to the port-side city of Lagos when she was two, singing in every spare moment while helping to raise her three brothers. Now back in France, She's toured West Africa with Afrobeat originator Tony Allen and won prestigious French music awards. Asa's second album Beautiful Imperfection weaves together R&B, jazz and reggae, with Nigerian-influenced melodies.
Gig Guide
4-5 pm
Brian Eno
Roxy Music keyboardist, solo artist, producer and originator of ambient music Eno talks about his new album Drums Between The Bells - a music and spoken word experiment into the melody of speech - in collaboration with poet Rick Holland.
Live: Kids of 88
Singer Sam McCarthy and his synth playing, sample triggering band co-founder Jordon Arts play chart-topping pop live at the Powerstation with their band.
Jacam Manricks
He's a talented alto player who's been living in New York for the last decade. With Sri Lankan heritage and a brow furrowed from the tireless pursuit of jazz as a pure art-form, Manricks can be a little dour but his ambitious, driving improvisations endeared him to a small but loyal group of local fans when he played Auckland recently. Nick Atkinson was there.