Music 101 for Saturday 28 May 2011
2 - 3pm
Marvin Gaye
What's Going On? The 40th anniversary of Marvin Gaye's classic album.
Access All Areas
Author Dan Charnas talks about The Big Payback: The History of the Business of Hip-Hop. The book details a business requiring 'the soul of a poet and the instincts of a killer' and explores how hip-hop changed America.
Kidz In Space
Kidz In Space found their niche by splicing rap and electronica into a future shocked hybrid - they talk to Sam Wicks about their pop genetics.
3 -4pm
Bob Dylan
We hear from Izzy Young, who ran the Folklore Centre in Greenwich Village when Bob Dylan was just starting out.
Tiny Ruins
West Auckland's Hollie Fullbrook aka Tiny Ruins talks about her sparse gothic songs, and plays live for us ahead of the release of her first album Some Were Meant For Sea.
The Sampler: The 3Ds
Nick Bollinger reviews We Bury the Living - a compilation of early recordings from noisy Dunedin guitar wranglers The 3Ds. www.radionz.co.nz/thesampler
Groove Guide
We hear from Groove Guide editor Sam Wicks about developments following the announcement of the magazine's closure earlier this week.
Gig Guide
4 - 5pm
Family Cactus Live Session
Wellington quintet Family Cactus make melodramatic, driving indie-pop. The band formed at the end of 2007, and their debut Come Howling was applauded by critics, with Graham Reid noting its "...dramatic, crafted, and seductive..." sounds. After a few months spent living in New York last year, the band is back with their second album, Spirit Lights. RNZ recorded some of Family Cactus' new songs at Erskine College, a ramshackle, but majestic old building near Wellington's south coast, and spoke to lead singer and songwriter Adam Ladley. Listen to the full Family Cactus session here
Okkervil River
Fresh from supporting Arcade Fire, and performing on Letterman, Okkervil River bass player Patrick Pestorius talks about the bands hectic schedule.
The Sampler: Porcelaintoy
Wellington duo Porcelaintoy echo both Edith Piaf and Portishead - Nick Bollinger takes a listen to their debut, Contrite Elegant Rebel. Check out a beautiful documentary on the bands show at Bats Theatre here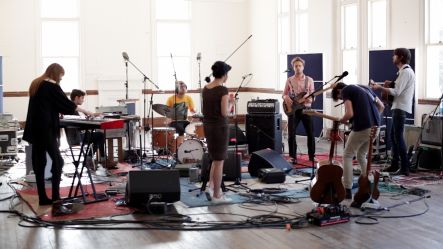 Family Cactus live at Erskine College