Music 101 for Saturday 19 February 2011
Saturday 19 February
2-3 pm
Songwriter, blogger, and twitter queen Amanda Palmer, and her friend Jason Webley - a punk-piano-accordionist - stop by to play songs for us. As well as playing around the country this week, they're both at Webstock to talk about ways musicians can best utilise the internet. Listen to the session here (Check out Amanda's ninja gig on Friday evening here , join her on twitter here and see a photo of Evelyn Evelyn here )
Detroit Soul-man Mayer Hawthorne talks about the gourmet delights of food on the road. Listen to Mayer Hawthorne's take on Burger Rings and more here
We've got a few more treats from Campus A Low Hum last weekend, including a chat with Four Tet and Caribou. Listen to an interview with Four Tet and Caribou here and see photos from Campus a Low Hum 2011 here.
3-4pm
Post punk tourists Gang Of Four bring crunchy angular grooves and pop culture investigations to NZ for the first time next week. We question them ahead of touchdown. Listen to an interview with Andy Gil from Gang of Four here
To celebrate the Year of the Rabbit, Trevor Reekie invites two Chinese musicians into the Music 101 studio to perform a selection of music, both folk and classical, that defines the spirit of the Lantern Festival, which dates back to 200 BC. Listen to Yu Lin Li and Shiqing Wang in session here
A round-up of Live music shows just-done and to come.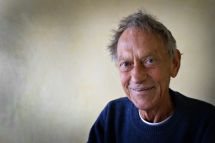 4-5 pm
Musical Chairs featuring Graeme Allwright (Part 1 of 2)
Graeme Allwright left New Zealand in 1948 to pursue an acting career in Great Britain. However life took a different turn and he ended up becoming one of France's most popular folk singers, famous for his translations of songs by musicians like Bob Dylan and Leonard Cohen.
For the New Zealand music profile series Musical Chairs, reporter Sam Coley catches up with Graeme in Paris to discuss his long and varied career - and to hear the songs which made him a household name in France… Listen to Musical Chairs featuring Graeme Allwright here
NZ musician Jayson Norris returns from London, and stops by to play a few songs. Listen to Jayson Norris in session here
'Rocksteady - The Roots of Reggae' is a film which brings together reggae legends from the 60s to talk about the Jamaican music genre that links ska (originating in the mid-1960s) and reggae in the early 1970s. DJ Dubhead talks to Stranger Cole - the charismatic narrator of the documentary, who is in New Zealand to launch the DVD. Listen to the interview with Stranger Cole here.