Music 101 for Saturday 9 October 2010
Saturday 9 October 2010
2-3 pm
We celebrate the life of Ian Morris, Tex Pistol, Dude, and recording engineer. Listen to our two part 2001 Musical Chairs on Ian here and here
It is John Lennon's 70th birthday today - and he's been remastered for the occasion.
Our resident Lennon fan Jeremy Ansell talks to music writer Graham Reid about these new versions of the entire Lennon back catalogue. Listen here
Pink Martini is an independent little big band from Portland Oregon which has sold more than 2 million albums worldwide. We find out how. Listen here.
3-4 pm
NZ Reggae band Katchafire tell of international adventures and a new album, On The Road Again. Listen here.
For The Sampler Nick Bollinger reviews a blue vinyl release from Auckland slacker-MCs, Home Brew (below).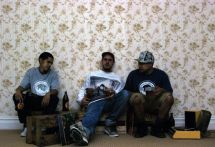 We attend the star-studded NZ Music Awards 2010 - listen here
And bring you a roundup of live music happenings just past and into the future.
4-5 pm
Musical Chairs featuring Jan Preston - Boogie Woogie Keyboard Queen: Part Two: Reviving Piano Culture
After releasing ten solo albums ex-pat Kiwi keyboard player Jan Preston has found the music she reckons she was born to play, the rhythmic toe tapping and often blues influenced rag time, honky tonk and boogie woogie style. Listen here.
Local haze-popsters Dear Time's Waste talk about the debut album Spells. Listen here