Music 101 for Saturday 28 November 2009
Saturday 28 November
2pm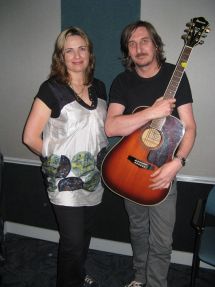 Jan Hellriegel sings songs with Wayne Bell (pictured) and talks about being 'All Grown Up'.
Catch up with Poly Styrene of 70s fem-punks X-Ray Spex.
3pm
Gin Wigmore talks to us ahead of her show with The Cardinals.
Nick Bollinger listens to a 70s retro feeling record from American musician Richard Swift.
We find out about the sunlight and rainbow sounds of Roy G and the BIVinators.
4pm
Musical Chairs features keyboard player, producer and arranger Mike Harvey. He's one of the few New Zealanders to have won two APRA Silver Scroll Awards. Harvey has worked with Ray Columbus, John Hanlon, his own group Salty Dogg, and has written a string of TV, film and theatre soundtracks.
Access All Areas: Meet the father of Ethio-jazz - Mulatu Astatke.