Music 101 for Saturday 25 July 2009
We have an interview with Brooklyn trippers MGMT.
Access All Areas considers the business of Michael Jackson.
Nick Bollinger listens to the latest of Jack White's supergroups - The Dead Weather - with fellow Raconteur Jack Lawrence, Queens Of The Stone Age's Dean Fertita, and the charasmatic Alison Mosshart, from The Kills.
Strike: we find out what happens when four percussionists collaborate with master improviser and comedian Adam Page (listen to Kathryn Ryan's interview with Adam here)
The Secret Life of Theatre Music Composers: Theatre music composers have possibly the most challenging task in their industry - to create the equivalent of an album of original material which suits the play it will accompany. The music is experienced 'live', but only for as long as the length of a season, and is almost never recorded for sale… and it all has to be done in a matter of weeks. Julie Hill speaks to some of the talented folk who create soundtracks for stage in The Secret Life of Theatre Music Composers.
And hear a session from Dunedin originals The Puddle.
(listen to Kim Hill's 'Playing Favourites' with George D Henderson here)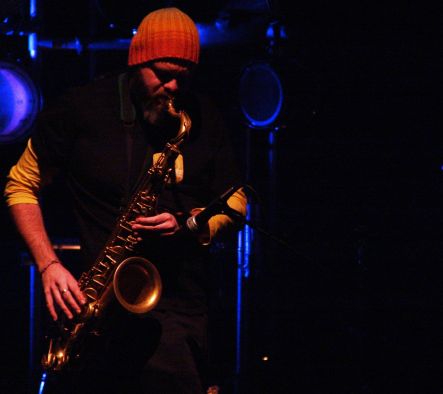 Adam Page