Music 101 for Saturday 16 May 2009
Saturday 16 May 2009
Island Records celebrates its 50th birthday this month. The label had its origins in Jamaican ska then migrated through musical eras, giving a home to global acts and releasing some of contemporary music's most lasting albums.
Today for Access All Areas Trevor Reekie talks to Vivien Goldman, who worked in the public relations department at Island Records in the 1970s and was an NME journalist, has published a book Bob Marley and now teaches at New York University.
Bonnie Prince Billy is back with another alt-country folk album full of heartbreak- Nick Bollinger reviews it for us.
The Clean's David Kilgour and performance poet Sam Hunt talk about teaming up for Falling Debris
Dunedin noise-scapers The Dead C reflect on twenty years of living on the fringes of experimental music.
Savage - I Love the Islands
Samoans are a proud people, and a source of some of that pride in recent times has been the Stateside successes of South Auckland's own: Savage. His hip hop single 'Swing' has now clocked up 1.5 million sales and counting, and the upward trajectory of his career has brought his label Dawn Raid Entertainment back from the brink. In I Love the Islands, Sam Wicks rolls with Samoan rap royalty on the return home to shoot the video to Savages new single I Love the Islands and feel the Island love.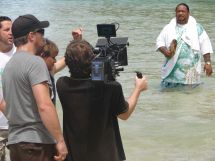 And Nick Bollinger listens to the debut from Brooklyn duo Telepathe, who bring together girl-group pop hooks, retro-disco, and spoken poetry.