Music 101 for Saturday 25 April 2009
Saturday 25 April 2009
Its ANZAC Day, and we'll talk to some of the kiwis chipping away at the Australian music scene in search of Closer Musical Relations with our nearest neighbours.
We chart the rise and fall of producer Phil Spector
Legendary R+B musician Booker T Jones talks about the guitar-heavy sound on new album Potato Head.
Dictaphone Blues, AKA Edward Castelow talks about crafting catchy - but not cheesy- guitar pop songs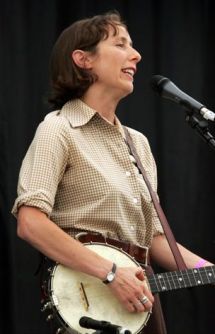 Kirsten speaks to Helena Faust (pictured) a NZ woman who went to America in search of her father, found him - and formed a life-long love of the banjo…
Nick Bollinger contrasts two local releases - The sepia snapshots of domestic contentment from Rosy Tin Teacaddy, and the dirty, greasy, and un-house-trained garage rock of Los Hories.
Musical Chairs today features Hugh Lynn - New Zealand's most successful rock promoter of the 1980s.
He opened New Zealand's first Punk Nightclub (it lasted two weeks) and then went on to work alongside international superstars such as David Bowie, Bob Dylan, Mick Jagger, Pink Floyd, R.E.M., Stevie Wonder and Neil Young. His outdoor concerts broke attendance records and in 1988 he was recognised by the Recording Industry Association of New Zealand with an award for his outstanding contribution to local music.