Music 101 for Saturday 12 July 2008
12 July 2008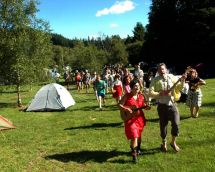 Polka Dot Dot Dot (pictured leading a parade at Camp A Low Hum 2007) return to NZ this week, we'll hear them in session on Music 101 this Saturday
An American trio who started playing together in NZ in 2007. Their blend of banjo/harp/ukulele/guitar/clapgame music draws from American folk, but finds inspiration in everything from Medieval rounds to ghost-lover ballads...
Access All Areas: American Indie label Sub Pop is celebrating its 20th birthday at the moment, so Trevor Reekie interviews head honcho Jonathon Poneman.
Nirvana, Soundgarden, Iron + Wine and Go! Team are all Sub Pop bands, and their current roster includes Kiwis The Brunettes, Flight Of The Conchords, and the Ruby Suns.
We check in with Little Bushman, the latest band to add orchestral backing. They perform with the APO this Sunday, with a score by John Psathas. Kirsten attends rehearsals.
Troy Ferguson reviews Wolf Parade "At Mount Zoomer" and Sigur Ros "Með suð í eyrum við spilum endalaust"
4.10 pm The Secret Life of Drummers: Uncovers the reality behind the myths of the tub-thumping wild ones.