Music 101 for Saturday 19 April 2008
19 April 2008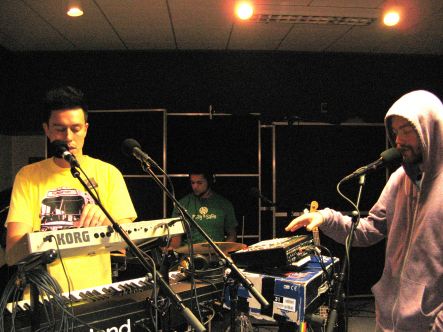 Electric Wire Hustle in Session at RNZ House
Today we mark international Record Store day with a visit to one of our locals, The day puts the spotlight on the small number of independent record stores that survive in the face of declining CD sales and chain stores.
Trevor Reekie meets Ravi Shankar's other daughter, Anoushka, who merges classical Indian music with electronica. She is half way into a world tour which brings her to Auckland for a one night appearance in June.
We've got a live studio performance from new neo-soul band Electric Wire Hustle, a three piece made up of David Wright (Solaa) Myele Manzanza (Olmecha Supreme) and talented vocalist and guitarist Mara TK.
Nick Bollinger reviews the latest album from Van Morrison
And hear the last part of the Human Instinct story - Coming Full Circle. Human Instinct head to Australia and end up losing their lead guitarist. A succession of line-up changes, involving the hottest musicians around, results three more albums, including a symphonic rock masterpiece that was lost for 30-years. Then in 2008 Human Instinct; the unit that began as a 50s dance band morphed into a 60s beat band, played alongside the best of British and became underground rock heroes, were back. After nearly a decade in the studio the new album was finally out, revisiting some of the earlier classics and reminding punters of the unique guitar-driven sound, that kept Human Instinct one of the highest paid hardest working bands of the late 60s and early 70s.