Music 101 for Saturday 8 March 2008
8 March 2008
Hear an acoustic session and a conversation with French lounge/covers act Nouvelle Vague (NZIFA Guests)
And chamber-pop composer Dudley Benson introduces selections from his debut album 'The Awakening';
Nick Cave talks about The Bad Seeds' new album 'Dig! Lazarus Dig!'
We'll meet a drummer who seems to be collecting female singer songwriters… Jim White plays with Cat Power, PJ Harvey, and Nina Nastasia, as well as the Dirty Three.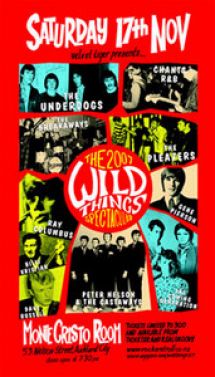 In Musical Chairs: Wild Things! - the first of two programmes about the 1960s R&B garage bands who got together again for a one-off concert which RNZ National recorded in Auckland last year. The 1960s youth underground in New Zealand had a soundtrack of music part-inspired by the tougher sound of groups emerging from England (like the Pretty Things or the Downliners Sect) who had been influenced by the new soul music from the USA. Between 1965 and 1967, the fuzz-box powered roar erupting throughout the clubs of New Zealand offered liberation and distraction from staid everyday life. Today we feature live performances from Chants R&B, The Breakaways, and Ray Columbus (with fellow former Invaders Dave Russell and Billy Kristian); alongside interviews about the era and what it means 40 years on.
And in Access All Areas uncovers 'A Day In My Minds Eye' - a new compilation of NZ psychedelia from 1967-72.