Music 101 for Saturday 1 March 2008
1 March 2008
This week - Crown princes of 80s darkness- Bauhaus- talk about their reformation and new record;
 We've got a session and a chat with cutie Christchurch band the O'Lovely's. Made up of members of the Ragamuffin Children and Black Market Art, the quartet are about to make the move to Europe, so catch them while you can.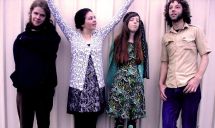 We'll speak to Benji B, co-founder of The BBC's Giles Peterson's Worldwide radio show;
Nick Bollinger wades through the dense new record by brother-sister duo The Fiery Furnaces, and gets a bit of banjo history in with Otis Taylor.
In Access All Areas, Trevor speaks to ex-pat Mike Holdsworth. He spent ten years helping run influential indie label Matador, and now manages Cat Power and Beth Orton. He's over giving talks at this year's NZ Music Industry Commission seminars.
And Musical Chairs features Russel Walder, a master improviser and one of the worlds leading contemporary oboists. He's recorded albums for the Windham Hill label, played Carnegie Hall, The Royal Albert Hall, been a Grammy nominee and multi-platinum selling artist. An American living in Auckland, he has also collaborated with locals such as Whirimako Black.