Mediawatch's weekly catch-up with Lately. This week Colin Peacock talks to Karyn Hay about some uncool capital cringe, confusing 'most read' lists - and the pursuit of politicians going into overdrive in the quest for a new National leader.
Pursuit of politicians in the story of the Blues 
On Tuesday night Newshub at 6 on reported that 30 deportees from Oz had been rushed from customs straight to what was supposed to be a secret location in Auckland - a Ramada hotel with no door handles and a black-out fence to keep prying eyes out and them safely isolated inside. 
National Party MPs flying into Wellington to pick a new leader on Wednesday would have been jealous. 
They were doorstepped by flocks of reporters at the airports and pursued all the way to Parliament en route to picking a new leader after Todd Muller's shock resignation. Tova O'Brien's report for Newshub at 6 had a comprehensive zoom-style mosaic of all the arrivals and departures (see above). 
Tova's walk-and-talk with a baggage-carrying Judith Collins at Auckland airport was covered on Newshub's website in full, running for several minutes (though with no puns about the political baggage she came with). 
Judith Collins' was again accosted by other reporters on arrival at Parliament where she was asked the same questions  - to which she gave the same answers. MP Nathan Guy was shown sprinting away from a reporter outside Parliament  - though they didn't explain precisely why    
Also this image of reporters talking to Sarah Dowie looks like a renaissance painting (cc: @NZAHParallels) pic.twitter.com/gacyzhEZ4P

— Andrew Macfarlane (@andrewmacfnz) July 14, 2020
It was dramatic stuff and it gives them something to show and use during the indefinite wait before a new leader is announced, but it seemed like a waste of time because all National MPs stuck to the agreement made in their morning group call not to make any comment until the evening meeting. 
Has any significant news ever been garnered from these doorstops? MPs are way too guarded to let anything slip before they meet - and way too smart to be seen in plotting groups. (Team Muller outflanked reporters by hiring a conference room at the Wellington Airport when they rolled Bridges 53 days earlier).
Once the 7pm meeting was imminent, most media sat tight and waited for a result but Newshub's pursuit of the story was only gearing up. Tova O'Brien was still calling supposed leadership contenders even after they went into the caucus room. 
Newshub's online-only news special was a marathon effort which went on til after 10 pm, only wrapping up after Judith Collins' first press conference as leader. Tova O'Brien - via texts from chief press officer Janet Wilson inside the meeting - was able to announce Judith Collins as leader and Gerry Brownlee as her deputy even before the party itself announced it (with a typo).  
You've got to admire Newshub's effort and commitment to full live broadcasting. Mike McRoberts' laptop ran out of battery and his voice stated to crack before the end.
It hammers home Newshub;s point of difference as the TV broadcaster most willing and able to do sustained live broadcasting of significant stories. But how many people were desperate to know the result and would have sat through all of that?   
Cringiest little capital  
The front page lead story in the Dominion Post on Monday sparked quite a lot of media chatter.  
"We are meant to be the coolest little capital in world, so why do so many young professionals say they don't want to move to Wellington? That is a question the capital's private sector is grappling with as it struggles to stop the flow of skilled workers to cities like Auckland and Sydney, instead of Wellington".

Dominion Post 
The question had been raised in a report compiled for Wellington City Council on the state of the city's private sector, which makes up 22 per cent of the city's workforce. 
One of the report's two authors - coincidentally - is a urban design consultant whose husband is a journalist who has written a lot about  local government issues in the past - and just recently about the impact of delayed roading around the capital. 
One councillor said promotion of the city's merits and some enticing new events might do the trick  - and the feedback was immediate and strong. 
Almost unanimously people reponding online pointed out that the overwhelming reason young people give Wellington a swerve is the strangled, expensive, poor quality of available housing. Rents are rising fast - exceeding averages in Auckland. 
An IT boss told the paper Wellington's authorities had been cruising on its reputation for 20 years, which is where the Dom Post's opening line  "We are meant to be the coolest little capital in world . . .  " 
A perfect example of believing your own hype. 
It's six years since Wellington's Council went overboard after Lonely Planet called the city that. They even put up flags around the city celebrating the endorsement.  
In 2015, Wellington's economic development agency ran an ad campaign which misleadingly claimed the BBC has endorsed Wellington one of the "hottest cities in the world." 
Time to address the problems of housing, infrastructure in the COVID-19 era, not hark back to fleeting endorsements no-one else remembers any more.   
Shorts story 
Meanwhile, the Dom Post's story about attracting private sector professionals also reminded readers how important the government sector employment is to the capital - especially in the CBD.
Long before anyone talked about the "coolest little capital," state sector workers' union the PSA was fighting for the right to wear some pretty cool fashions: 
Weekend union history: the PSA fought for your right to wear walk shorts in the office. It's not all sausage rolls and pay bargaining, we also make sure our members are stylish yet practical. pic.twitter.com/YhwJFtnpvz

— NZPSA (@NZPSA) July 10, 2020
What readers really want?   . . . 
After talking to Stuff's editor on Mediawatch last weekend about clickbait I was intrigued by the Weekend Herald's top five of the week list: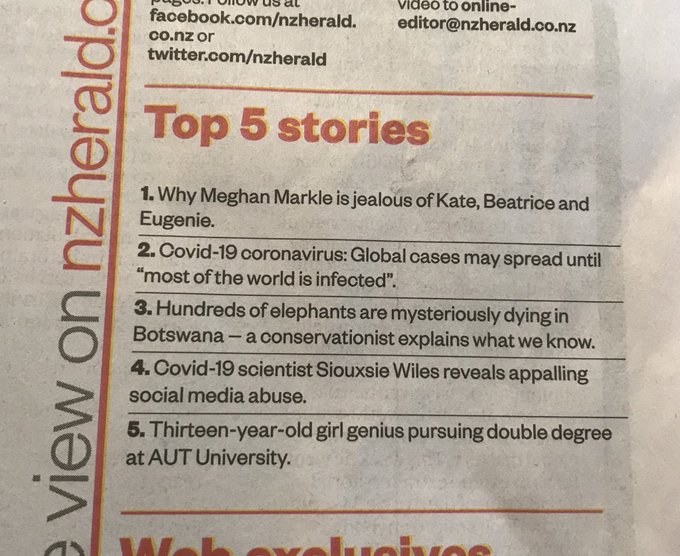 On Twitter, RNZ's Jeremy Rees was startled:
"Boag/Leaks/ISO-runners/Tiwai/Melbourne/Muller/ aren't all that big a deal to the wider NZ public?" he wondered.
Or was it because: "there's been dozens of 'leaks' stories so no single story rises to the top. In contrast there's been one Meghan Markle story so it garners all the traffic."
Donna Chisholm pointed out: 
"All of these were published six-plus days ago, predating Boag/leaks/runners/Tiwai etc and none was paywalled."
Another follower pointed out the mix could was also unpredictable at the heaight of COVOD-mania back in March: