Insight for Sunday 6 July 2014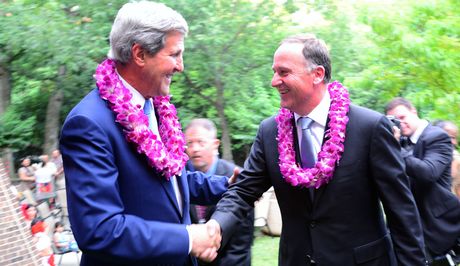 US Secretary of State, John Kerry and Prime MInister John Key on Pacific Day at NZ  Embassy in Washington (RNZ/Chris Bramwell)
8:12 AM.Insight travels to Washington to explore how NZ can balance relationship between US and China Audio
The Prime Minister, John Key'recent trip to New York was focused on lobbying permanent ambassadors at the United Nations to support New Zealand's bid for a non-permanent seat on the Security Council in 2015/1.New Zealand has been selling itself as a sensible and moderate nation that prides itself on taking an independent view.
But the main reason for John Key's visit to the United States was to spend time with the President , Barack Obama, reinforcing Wellington's warming relationship with Washington.
America's so-called "rebalance" towards the Asia-Pacific region, a policy thought to be prompted by the rising presence of China in the region. But could that also put NZ in a difficult position as it tries to balance its important relationships with both the US and China?
Radio New Zealand Political reporter, Chris Bramwell, travelled with Mr Key to the US and explores how difficult that balancing act might be.
(Photo by Chris Bramwell/RNZ)
Read more about the delicate blancing act in relations with the US and China