Insight for Sunday 9 June 2013
8:12 AM.Treaty Settlements are about half way through and Te Manu Korihi Chief Reporter Gareth Thomas considers if there are winners and losers. Audio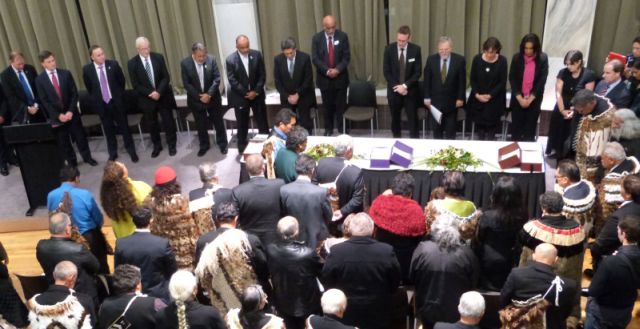 Image: Tuhoe Treaty Settlement signing at Parliament
Treaty settlements with tribes have hit the halfway mark.
The National-led Government has pushed through more than 30 packages in 4 years. Labour's record was 15 over 9 years.
The success stories are well known: Ngai Tahu's tourism, fishing and property ventures, for example. But the Crown's policy of only dealing with large groups of claimants is creating new grievances, as some hapu and marae refuse to be lumped in with other iwi.
Te Manu Korihi reporter, Gareth Thomas, looks at Treaty settlements, the tough negotiations, the winners and the losers