Insight for Sunday 23 December 2012
8:12 AM.Insight goes to Taranki, Gisborne and Southland to consider there economic futures in the face of possible population declines. Audio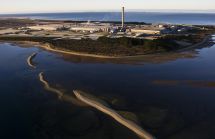 The latest population projections from Statistics New Zealand  for the regions for the next 20 years indicate a less than rosy future.
The growth in the number of people living in the regions will slow, the average age will go up faster than in urban areas and  some parts are facing a population decline.
Insight goes to Southland , Taranaki and Gisborne to find out what sort of future these areas face and if there is anything that can be done to change the projections and reverse some of the trends.
Image: Tiwai Point, Bluff. Courtesy of Venture Southland