Insight for Sunday 25 November 2012
8:12 AM.Eric Frykberg reports after travelling to Timor Leste on the departure of the NZ peacekeepers and the nation's future Audio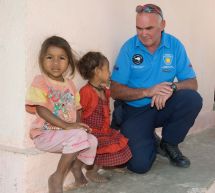 New Zealand peacekeepers have now withdrawn from East Timor.  
Their departure came ahead of the United Nations formally ending its security mandate for the country at the end of the year.

New Zealand troops went into East Timor during its violent battle for independence in 1999.  

They returned to the country when law and order collapsed in 2006.  

Eric Frykberg was in the capital, Dili, to mark the departure of the New Zealand soldiers and now considers what the future holds for the country.  
Gallery: New Zealand Peacekeepers in Timor Leste
Picture: NZ police officer involved in training in community policing in the a mountain village near the inland town of Aileu. (Image courtesy of the NZ Defence Force)