Insight for Sunday 20 May 2012
8:12 AM.Ian Telfer asks whether plans to get solo parents into paid jobs will work. Audio
In its coming Budget, the Government will set aside close to $300 million for welfare reforms, which aim to get single parents and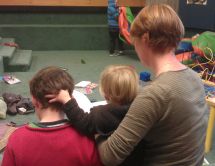 teenagers off benefits and into work.

New laws being debated in Parliament would mean from October, more than 30,000 sole parents will have to try to find a job or have their payments cut.

Parents on the Domestic Purposes Benefit will need to find part-time work when their youngest child turns 5 year, full-time work from when the child turns 14, and mothers who have a baby while already on the benefit will only be given one more year at home with that child.

But will the plan work? And with rising unemployment, will there be jobs for the parents to go to?

In this pre-Budget Insight programme, Dunedin reporter Ian Telfer talks to beneficiaries in the city about the changes to find out how much they know, what they will do and how they feel about being pushed back to work.