Insight for Sunday 17 July 2011
8:12 AM.Ahead of the referendum on MMP, Julian Robins speaks to supporters and opponents of the system. Audio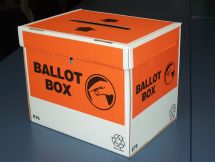 After 15 years of proportional representation, voters are to be asked if they want to retain MMP.
Its supporters insist it is a fair and transparent system, while its critics dismiss it as a recipie for back-room deals and broken promises.


Five months out from the referendum on the future of MMP, Radio New Zealand's political reporter, Julian Robins,  investigates how it has changed New Zealand's politics, parliament and government.