Insight for Sunday 28 November 2010
8:12 AM.Teresa Cowie looks at the first results to come from a new longitudinal study about growing up in 21st century NZ. Audio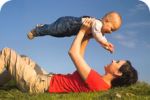 Growing Up in New Zealand is a new longitudinal study that will follow seven-thousand families for 21 years.
It's the only project of its type in the country and aims to reveal the issues that are relevant to children and their families growing up in the 21st Century.
The research will provide insights into an array of issues including health and well-being, cognitive development, culture and identity.
What are the issues families are facing? What does the average New Zealander look and sound like?
Social Issues reporter, Teresa Cowie, has spent time with some of the families who are going under the microscope.