Insight for Sunday 20 June 2010
8:12 AM.Insight visits Fiji a year after the interim administration scrapped the constitution and introduced its new legal order. Audio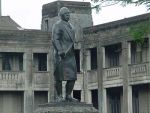 It's more than a year since Fiji's interim administration scrapped the constitution, sacked the judges and introduced its new legal order.
The self appointed Prime Minister, Commodore Frank Bainimarama says he needs to deal with corruption, change the coup culture and put Fiji back on it's feet economically before tackling electoral reform.
Despite pressure from overseas, the date for a return to democracy is still set for 2014.
So are any changes apparent?
Philippa Tolley and Megan Whelan, from Radio New Zealand International, recently visited Fiji and assess what is going on.
Photo: Memorial of Ratu Sukuna, considered the father of modern day Fiji.