Insight for Sunday 17 January 2010
8:10 AM.Lois Williams looks at the main Treaty claim of Northland's Ngapuhi people and their arguement for Maori sovereignty Audio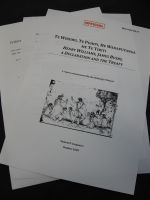 In March, the Waitangi Tribunal is set to hear the story of the country's most populous - and poorest - tribe, Northland-based Ngapuhi.
They have land claims a-plenty - but their primary grievance concerns the Treaty itself and its precursor - He Whakaputanga: the 1835 Declaration of Independence.
Lois Williams reports.
First broadcast on 8 November 2009
Photo: The front cover of a Treaty of Waitangi report called "Henry Williams, James Busby, A Declaration and the Treaty."