Insight for Sunday 2 August 2009
8:12 AM.Karen Brown investigates how the country is coping with the swine flu pandemic and what lessons are being learnt. Audio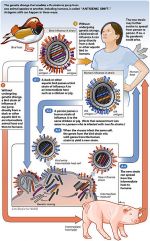 A steadily rising number of New Zealanders are dying from swine flu as the pandemic of the new virus sweeps the world.
The World Health Organisation describes it as the fastest-moving pandemic the world's seen.
Although at present the virus is considered to cause mild to moderate illness, there are fears it could mutate in to a much more dangerous infection.
New Zealand was one of the first countries to face swine flu, and at the most dangerous time --in winter.
It's led to one of the largest health responses this country's ever attempted.
Health Correspondent, Karen Brown, asks what lessons are being learnt.