Insight for Sunday 28 June 2009
8:12 AM.Justice reporter, Penny Smits asks whether the way criminal cases are handled needs to be reviewed. Audio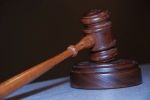 Its origins can be traced back 800 years and it's considered by many to be the very bastion of justice.
But, David Bain's re-trial has led to renewed calls for New Zealand's jury system to be overhauled.
Is this country's legal system flawed and is it time to re-think juries?
Radio New Zealand's Justice Reporter, Penny Smits, investigates.