Insight for Sunday 21 June 2009
9:53 AM.Dougal's regular insight from Dunedin. Audio

9:10 AM.Penny McKay takes an objective look into the early childhood education sector. Audio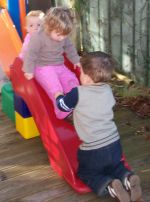 The early childhood education sector has been getting a public battering lately.
In April, many media reported that an Education Review Office audit of toddler and infant centres showed up to half of them were failing their clients.
Since then, various reports have gloomily predicted dire futures for children under the age of three who are placed in child-care. But are they right?
Penny Mackay goes behind the headlines to sort through the evidence on what babies and toddlers really need.