Insight for Sunday 16 November 2008
8:12 AM.Insight looks at how President-elect Barack Obama will meet the immense challenges facing the United States. Audio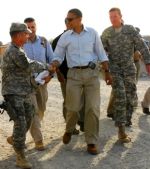 The United States has well and truly bought into Barack Obama's presidential campaign promises with voters awarding him an historically large share of the popular vote.
But faced with two wars, financial turmoil and economic recession can the untried president-elect deliver?
Radio New Zealand's Morning Report producer, Phil Pennington travelled to Washington with Geoff Robinson to cover the historic election and examines the challenges ahead for Barack Obama.
Picture: Barack Obama meets American troops in Afghanistan. (source:Illinois Senate Office)