At Woodhaven Gardens near Levin the crops of lettuce, leeks, radish, parsley, beetroot, cabbage, kale, spring onions and parsley are  harvested by hand in  rain, hail or shine. While conditions, especially in winter, can be less than ideal, many of the workforce have been there for over a decade.
There is a strong family atmosphere at Woodhaven Gardens and a highlight of the year is the annual Christmas concert. Last year's event was won by the women who pick parsley and spinach.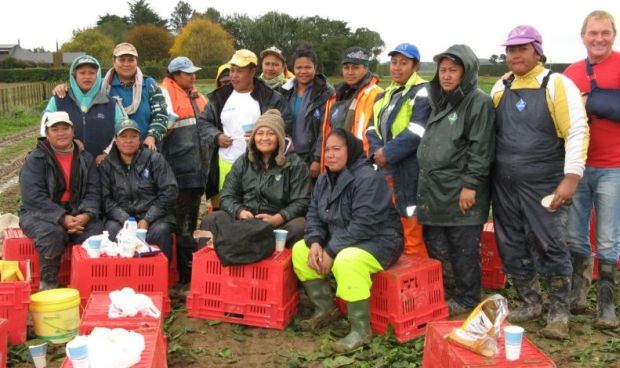 Meanwhile when Emma Clark was a teenager she was never going to work in her father's Horowhenua market garden business. Now the mid-thirty-year-old can't imagine working anywhere else.
Woodhaven Gardens was set up by John Clark and his father Eric, 35 years ago. They farm 600 acres, employing 130 people, with nearly as many nationalities represented on staff.
Emma says she always used to help out weeding paddocks as a small child and enjoyed it. That enthusiasm didn't last and after leaving school she went to university to do a marketing degree. However a call home to help out when her parent's separated saw her finishing her degree extra-murally, and she's been full time ever since.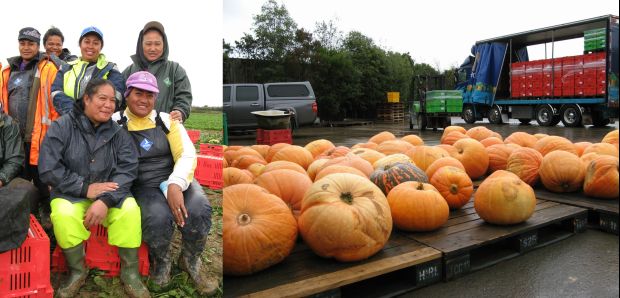 "I love the people. I love the risk factor, the highs and lows, it like going to the races most days. When you get a win it's extremely exciting.  And it's life, mixing family with work. You don't get up and go to work, you get up and live."
Emma says her three kids love working on the farm, love working with Grandad John, and are likely to work in the business when they're older. She says she and her brother are aiming to make the business broad enough to have roles for everyone.
She laughs when talking about working with her father. "Most of the time it's brilliant", and she feels it's probably harder for others because when she and John have a dust up there are no holds barred. "You have your moments and then you get over it. He's probably boss first, father second."