Country Life for Friday 29 April 2011
9:05 PM.In the North Island it's been a frustrating week for Bay of Plenty Kiwifruit growers and pickers, while in the South Island frisky Rams are out mating with Ewes in Southland. Audio

9:10 PM.Luthier Laurie Williams lives in the Far North. To reach him requires a rugged drive on gravel roads but the beauty of the instruments he crafts from native wood is sublime. He selects the trees and… Read more Audio

9:17 PM.The Oxford Agricultural and Pastoral Show is in its 105th year and as well as having every imaginable farm animal and garden vegetable on show, it also celebrates the vitality of this rural North… Read more Audio
09:05 Intro and Regional Wrap
In the North Island it's been a frustrating week for Bay of Plenty Kiwifruit growers and pickers, while in the South Island frisky Rams are out mating with Ewes in Southland.
09:10 Luthier Laurie Williams
Luthier Laurie Williams lives in the Far North surrounded by native bush and farmland. To reach him requires a rugged drive on gravel roads but the beauty of the instruments he crafts from native wood is sublime.
He's been making guitars, violins and ukeleles since 1992 and has created over 160 of them. The process of making each instrument begins by Laurie going into the forest to select the native tree which he fells, re-saws, air dries and grades. Laurie Williams says he loves having absolute control over the tonewoods that go into the instruments. "It is much more labour intensive but I enjoy the journey and feel it is an essential part of building fine instruments..
The works of art are finished with shell and wood inlays, and on the international market his guitars can fetch over ten thousand US dollars.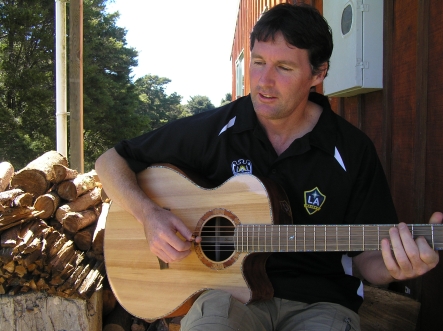 09:17 Showtime in Oxford
The Oxford A&P show is in it's 105th year and it's the last one on the A&P circuit before winter. As well as having every imaginable farm animal and garden vegetable on show, it also celebrates the vitality of this rural North Canterbury community.