Country Life for Friday 17 September 2010
9:05 PM.There's still no let-up from the rain and lambs are dying in the wet weather. Audio

9:11 PM.West Coast dairy farmer Stu Davidson believes the 1080 poisoning programme to combat bovine tuberculosis is doing more harm than good in South Westland. Audio

9:30 PM.Every winter, for four weeks, former commercial whalers now work with the Conservation Department to survey whale numbers in the Cook Strait. They hope their findings will help support New Zealand's… Read more Audio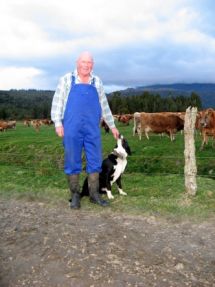 Competition: Guess the lambing percentage for Sheep Heaven. We started with 10 ewes scanning 26 lambs. Email answers to countrylife@radionz.co.nz
Picture right
Stu Davidson on his farm up the Waitaha Valley on the West Coast.
Pictured below
Top left: John Gibbs, Rhiannon Daymond-King, Nadine Bott on the whale research boat.
Top right: Getting ready.
Middle left: Looking back to Heberley's house and over to Whekenui Bay.
Middle right: View from whale hut lookout.
Bottom right: Inside whale look out hut Johnny Norton scanning Cook Strait.
Bottom left: All eyes looking. Johnny Norton, Tommy Norton and Joe Heberley.