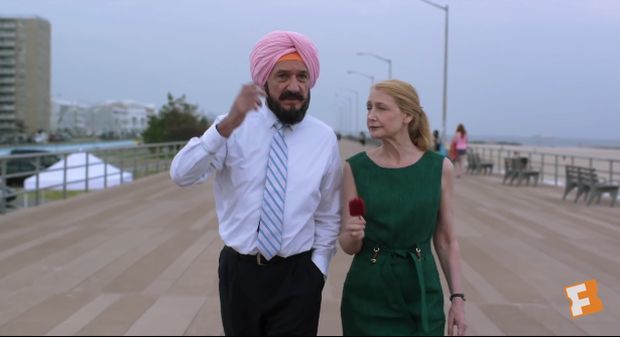 Simon Morris looks at the new Marvel Comics movie, Ant-Man. He also talks to former Marvel villain, Sir Ben Kingsley - aka The Mandarin - about his new film Learning To Drive, and a career that has spanned Mahatma Gandhi, Ringo Starr and the Olsen Twins!
The big picture with Simon Morris
The comic book world is dominated by two companies – Marvel and DC. DC's Superman and Batman films tend to be dark, ultra-serious and borderline Fascist. Marvel is far more on the side of the underdog. Even their superheroes are plagued with self-doubt.
Possibly the most subversive Marvel movie was provided by Hollywood iconoclast Shane Black. His Iron Man 3 not only found a new angle to Robert Downey Junior's title character, but he came up with the genre's most interesting villain - the too-bad-to-be-true Mandarin, played to the hilt by Sir Ben Kingsley.
But even the best comic-book films can't escape the fact that they're… comic book films. No matter how cunningly devised and well acted they are, they stand and fall on three little words: Bam!  Splat! And Kapow!
But though we may roll our eyes at these technicolour mastodons, and cry out for something more nourishing, the trouble is that comic-book films, and their animated cousins, make grown-up films look a bit tame and old-fashioned.
Like Sir Ben Kingsley's own new film, Learning to Drive - about a tightly-wound New York book critic, played by the always reliable Patricia Clarkson, who belatedly finds she needs to drive herself when her husband leaves her. Her instructor is a dignified Sikh refugee, played by Ben Kingsley.
The film is everything you want from a grownup film – that is, a film about adults, a little slight, maybe, but beautifully written and acted.  
Later I talk with the equally dignified Sir Ben Kingsley, who's rather more fun than I was expecting – particularly when the conversation turns to the Beatles, the Olsen Twins and dressing in drag.
But the big movie this week was the debut of Marvel Comics' smallest super-hero, Ant-Man.