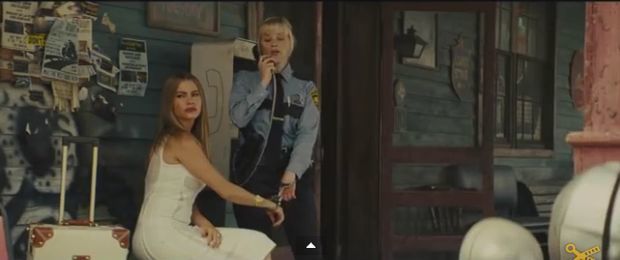 Simon Morris reviews the all-conquering Jurassic World, and the rather more minor hit Hot Pursuit, starring Reese Witherspoon. And the Spanish Oscar-nominated Marshlands delivers to the True Detective audience.
The big picture with Simon Morris
I've been mulling over Hollywood's two big problems – under-representation of women and a memory-loss over how to make up good, commercial stories – and I thought I may have cracked it.
Why not combine these problems? Just get every all-male hit story of the past and remake them with women stars.
If Iron Man is cute and successful, wouldn't Iron Woman be even more so?   Is there mileage in a simple Everywoman travelling through American history called Doris Gump? Is there any good reason why an all-women Magnificent Seven would be any less Magnificent?
As it turns out, Hollywood is way ahead of me, with mixed success. Certainly Pitch Perfect – a sort of cheerleader version of the blokey Commitments – did well. They've recently announced a girl-power Ghostbusters.  And this week, Reese Witherspoon produces and stars in a rejigged Robert De Niro classic. Midnight Run featured an uptight lawman taking an unwilling criminal to testify against his boss. Hot pursuit takes the story, broadens the comedy and aims it squarely at a female audience.  
The results…? Well, let's just say that the Global Replace with Women Characters strategy needs a little work…
Out in the rest of the world, a Spanish film sticks with the blokes, and a standard police investigation of two missing girls.  
But where Marshlands scores heavily is, first, placing it in one of the most picturesque settings in Europe – the astonishing-looking delta of Andalucia – and second, having the story take place shortly after the demise of Fascist dictator Franco. Two cops – one a former Fascist, the other a stroppy democrat – give Marshlands the sort of depth last seen in another Latino thriller, Argentina's The secret in their eyes.  
The fact that it won every Spanish film award going is a reminder that great stories are thin on the ground everywhere, and doubly welcome when they turn up.
But the big story this week is the wildly successful revival of an old Steven Spielberg franchise. 20 years on, let's go to Jurassic World.