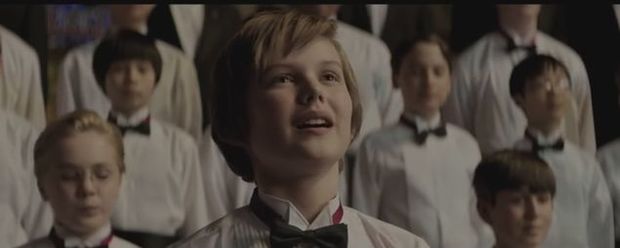 A still from Boychoir (- not Kurt Cobain: Montage of Heck - for clarification).
Boychoir, in which another troubled kid meets another inspirational teacher,
Kurt Cobain: Montage of Heck – not quite all you ever wanted to know about Nirvana,
And It Follows writes the next chapter in the history of horror.
The Big Picture, with Simon Morris.
If there's one thing the movie industry has learned from the costume department, it's this: Never throw anything away, it may come back into fashion.
Back in the Seventies, we saw the apparent demise of the big animated feature, the disaster film and the cheesey musical.
They came back, needless to say. In fact sometimes it seems that's just about all there is in the cinema. In the case of The Lego Movie, all rolled into one…
The traditional war film regularly comes and goes, as do fantasy, swords-and-sorcery epics, though it was less predictable that Cecil B DeMille's old-fashioned Biblical spectaculars would make a comeback in the YouTube 2010s, in the shape of Noah and Exodus: Gods and Kings.
One man's old hat is another man's brand-new headgear, of course, and often the second-hand antique of a previous era becomes a fresh attraction to an audience that wasn't born when the last generation got good and sick of it. Who'd have guessed that a silent movie – The Artist – would pick up an Oscar long after such things had seemingly been relegated to the dustbin of history?
3D movies were, at one stage, a desperate gimmick, only used by the cheapest of horror films. Film noir was a beloved Forties style, sadly lamented by the critics, until The Girl With the Dragon Tattoo hauled it back into the mainstream – particularly on television.
Yes, sooner or later everything comes back in one way or another – Japanese monster movies, Disney fairy-tale movies, even the much-maligned "women's pictures" of the Fifties and Sixties.
Everything except one… No matter how hard everyone tries, the old-fashioned western isn't coming back any time soon. They can write 'em, they can film 'em, but they can't reproduce the frontier decency and total lack of cynicism the old horse-operas depended on. Not yet at any rate.
This week sees the return of two elderly genres – the musical and the chilly Eighties horror film.
It Follows has been hailed by horror purists as the best of its type since John Carpenter and Brian De Palma stalked the drive-ins.
Musicals these days also go out of their way to pretend they're not what you think.  
Montage of Heck is actually a documentary about troubled rock-star, Kurt Cobain – but it still finds room to play the hits.
And Boychoir masquerades as a drama about another troubled kid with the voice of an angel, who might just be the one to take the choir into the big leagues.