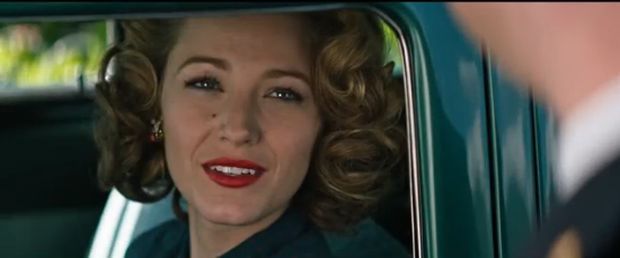 The Age of Adaline.
On stage in Of Mice and Men, James Franco is rather different from his lightweight film comedies,
Sean Penn decides he needs a hit – a hit with a title like The Gunman…
And The Age of Adaline – thereby hangs an old-fashioned tale…
The big picture with Simon Morris
Every year – in fact, sometimes it feels like every week – a new buzz-word or phrase pops up, offering not just a new name for something familiar but, it seems, a whole new thing.  
How did we wrestle with the concepts of 'paradigm shifts', 'memes', 'tropes' and 'meta-data' when there were no such words?
In the movie-commentary world, one word appears more often than most, and that's 'meta'. Not meta-anything, just 'meta' on its own. It means, often, that the most interesting thing about the film is stuff surrounding it and where it fits in the culture, not the movie itself.
Case in point – the Oscar-winning Birdman.  Most of the write-ups stressed the way it was filmed – as if it was one, reality-TV shot. Very meta. Or the fact that the star, like the lead character, had been part of a superhero franchise, and had quit. Or that co-star Ed Norton, like his character, had a reputation of being hard to work with. 
Films about films, of course, are nothing new. Buster Keaton and Charlie Chaplin made them back in the silent era. But it's the know-all, smirky quality about modern, self-referential movies that clearly needed a pseudo-Greek catch-phrase. And much of today's movie reviewing assumes we're all as smart-Aleck as the writer.
This year, any action movie starring someone older than, say, Daniel Craig is described as part of a movement – generally referred to as the "post-Taken movement".  And when one fails - like the new Sean Penn film The Gunman - the meta-argument goes that audiences have reached the end of that particular meme, trope or paradigm shift.
For some reason fantasy films are mostly discussed today in terms of two previous films. Is it a Lord of the Rings-type fantasy film – swords and sorcery – or is it a comic-book hero fantasy film – super-powers and alien invasions?
A quiet little film like The Age of Adaline goes back to an earlier definition – the tales of Edgar Allen Poe, Oscar Wilde and television's Twilight Zone. I'm not sure what the meta-argument of The Age of Adaline would deal with – the fascination with staying young forever, or the trendy phrase "an old soul" carried to excess?
And what about the reaction against special effects-driven movies, as audiences flock to see coverage of live theatre? The latest example is the hit Broadway production of John Steinbeck's classic 1937 play, Of Mice and Men.